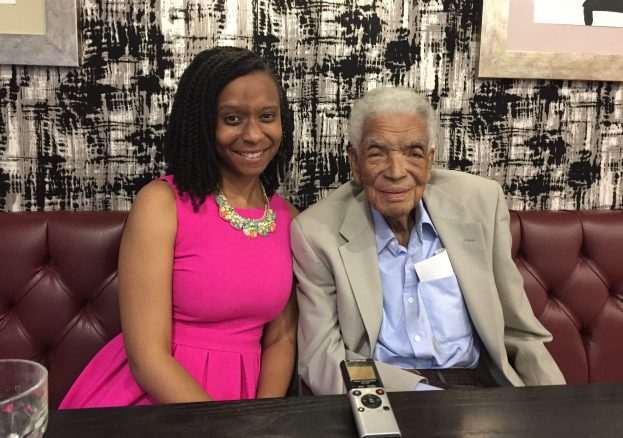 For decades the legendary British/Bermudian actor Earl Cameron CBE – who celebrated his 102nd birthday on August 8th 2019 – graced the stage and cinema screens with his presence in films such as Pool of London (1951), Thunderball (1965), The Interpreter (2005) and Inception (2010). He journeyed along a path rarely trodden by black actors of his era, and this summer I had the honour (particularly as a fellow Bermudian) of meeting him and his wife Barbara in their English hometown of Kenilworth, Warwickshire.
As we chatted over coffee in the Holiday Inn hotel lounge Mr. Cameron shared many interesting stories, including those of his early days in the U.K. He told me he arrived in London as a merchant seaman in 1939 at age 22, and that becoming an actor had never crossed his mind. In fact, he longed to return to the nice easy lifestyle in Bermuda, but due to the outbreak of the Second World War that unfortunately was impossible. It then became necessary for Mr. Cameron to find a job in the UK but racism was a blatant obstacle: "even the most menial jobs weren't given to black people" he said. As a result, when an actor friend of his told him that a role became available in a play he was in (and one which Mr. Cameron had somewhat jokingly expressed an interest in joining), he seized the opportunity, and after a brief introduction to the director he was on stage that same night. "Could you believe it?" he said reflecting on the spontaneity of it all. "I got through that first scene, and that was my introduction to show business." He said it was not only a virtual accident, but it was like a means to an end: "It was a way out from washing dishes in hotels, kitchen portering and things like that."
Although Mr. Cameron said England has changed tremendously since those days, "I hardly ever come up against any racism at this stage of my life" and that there's "no sense holding any grudge" about the past, he spoke about the fights that regularly broke out between black immigrants and racist American soldiers during the war years, the race-fuelled riots in London's Soho and the hundreds of Englishmen who went on strike when a couple of Trinidadians were given jobs prior to the war. "The attitude then was: 'send all the blacks back to their countries.' That was the attitude of the average English person" he said. However despite it all Mr. Cameron, who is a devout member of the Baha'i faith with a peaceful and humble demeanour, said "God works in mysterious ways." He explained that "during the war they needed us, so they brought many soldiers from Africa, the Caribbean, and even from little Bermuda. The attitude changed an awful lot and after the war there was a certain degree of respect for black people that England didn't have before the war." Mr. Cameron also met West Indians who came to England on the Empire Windrush ship: "The Windrush has quite a history for England because it was that particular ship that brought many people from the Caribbean to England, and a lot of them were ex servicemen who had gone home, couldn't get jobs and came back. A lot of them came for the first time too. They were a great asset to England."
Whilst Mr. Cameron generally didn't experience the same levels of prejudice in his profession as an actor as he did when initially seeking a job, there were roles he refused because they perpetuated derogatory stereotypes of black people. "One has a choice. You don't have to do these things" he said. "Mind you I was quite prepared to sacrifice my whole career rather than do something so degrading." In one particular instance a director, who had initially threatened to blacklist him as a result of his unwavering stance, ultimately gave in and adjusted the script until Mr. Cameron felt it was of an acceptable standard.
He also noted that there were roles that weren't even considered for blacks, such as Shakespeare's Othello, from which Mr. Cameron theatrically recited lines, to my delight, and described as one of the greatest parts ever written for an actor.
Nonetheless, race relations were much worse across the pond in the United States, which is why he decided it was best for him and his family to stay in England rather than pursue acting opportunities in Hollywood. His dear friend and fellow actor Sidney Poitier had given him insight into the situation over there also: "Sidney said that when he first went to Hollywood the only other black person he saw in the studio was a shoeshine boy." Mr. Cameron expressed his confusion as to why the U.S. has been unable to let go of "that terrible racial prejudice that still exists" despite the fact that "they've had many warnings." Growing up in Bermuda he was accustomed to racism and said he never allowed it to hurt him: "no, no, I find it stupidity." However Mr. Cameron stressed that "the difference of race must be annulled" in order for the world to achieve "a lasting peace, which we all greatly desire."
Upon reflection Mr. Cameron said "acting becomes very real to black people I think. Maybe because the sort of oppression we have suffered has given us a deeper understanding of human life. Suffering generally – nobody wants it and I don't agree that people should suffer – but it has its compensations so to speak, and it tends to bring out the best in human beings."
Mr. Cameron thinks it's wonderful that Black History Month is becoming universal. He commented on the excellent performances of two black British actors he said he'd like to meet: Chiwetel Ejiofor CBE in 12 Years a Slave (2013) and David Oyelowo OBE in A United Kingdom (2016), where he played the role of Botswana's Seretse Khama, who Mr. Cameron said he knew personally, as well as Khama's wife Ruth, when the pair lived in London.
Whilst Hollywood lures many British actors Mr. Cameron said what's needed are more brilliant and talented scriptwriters in the UK and over time the number of such opportunities here will gradually increase.
Perseverance is key in this industry said Mr. Cameron, which is what his teacher Ms. Amanda Ira Aldridge instilled in him. He said he'd tell all aspiring actors: "don't give up, don't throw the sponge in. Stay with it if that's what you feel you want to do and become. But work at it."
In 2012 the Bermuda City Hall Theatre was renamed the Earl Cameron Theatre in his honour, and whilst Mr. Cameron has enjoyed a fulfilling career as an actor he said he wants his legacy to do be: "nothing in particular, but I would like to be remembered for being a very strong Baha'i. To become spiritual, really spiritual, and that is my only hope. As far as career, acting and all – that is all passé now. That is small time stuff as far as I'm concerned. The most important thing is the spiritual part of our life."