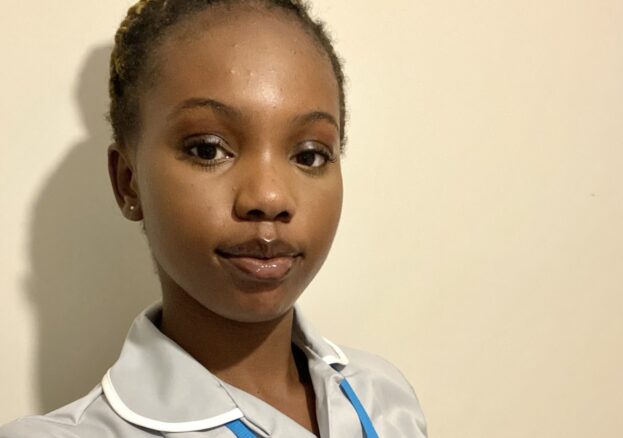 After deciding she wanted a career in medicine, Deborah Olusanya joined the NHS Trust's Volunteers Programme, hoping the experience of working in a healthcare setting would support her university application. "It was about getting exposure ahead of my course," says 18-year-old Deborah. "I also wanted to do my bit to support the NHS during the highly pressured COVID-19 pandemic, especially as I could see on the news how stretched the clinicians were."
Since starting her role as a volunteer at the Royal Wolverhampton NHS Trust (RWT) in September 2020, Deborah has worked across several areas; from the virtual COVID-19 ward, which remotely supported patients who were at home and in elderly care wards. These roles covered a wide range of duties from administration to more hands-on tasks, such as bed-making. "I think elderly care was my favourite because of the interaction with patients," shares Deborah. "It wasn't just about keeping them fed and watered; it was about keeping them company, which was so important with visiting restrictions."
The experience inspired young Deborah. "The healthcare professionals are understandably busy and don't always have the time to sit and chat, whereas the volunteers are there to have those personal conversations and to enhance the experience while in hospital," she says. "I loved hearing about the lives of the patients as it really opens your mind-set as to what people are going through and it makes you more empathetic. Seeing the smiles on the patients faces was truly the best thing about the programme."
Motivated by her experience, Deborah wanted to apply for a role as a Healthcare Assistant (HCA) on the Trust's Staffing Bank. "I really enjoyed my work as a volunteer but there were certain tasks that I wasn't trained to support – I wanted to do more and to be more hands-on," she shares. So she spoke to the Volunteering Team, who encouraged her to stay on a ward for a fixed period so she could build relationships and gain more experience.
With her newly gained skills, Deborah felt confident applying for the Healthcare Assistant role and even received a glowing reference from the Ward Manager. "I officially started my HCA role in August 2021 and I have more in the way of responsibilities," she says. "I've also gained essential skills such as how to read pulse rates, how to perform first aid and the moving and handling of patients." Although working in a busy ward can get overwhelming sometimes, Deborah says having supportive colleagues always helps. "We work as a team and help each other so it never feels like we're doing it alone."
Deborah is enjoying her new role at the NHS and it's flexible nature means she can select shifts around her studies while completing her final year at school. In particular, Deborah is proud of how inclusive her workplace is. "RWT is a very diverse place and I've always felt respected and valued for my skills. I haven't felt excluded in any sort of way – no second looks and no issues. It's the same with age, I am quite young compared to my colleagues, but they've never made me feel as though I'm not capable. They've all been so welcoming."
Deborah recently submitted her application to medical school and is waiting to hear back. "I'm proud of what I've achieved – a young, black female who was able to further her career and progress in the NHS with support from the Volunteering and Staffing Bank teams," says Deborah. Reflecting on her own experience, Deborah also encourages others to consider volunteering with the NHS. "Just 2-4 hours a week will give you the opportunity to learn about the different roles within the NHS, common challenges, and teach you skills that can last a lifetime."
The COVID-19 pandemic has shown, now more than ever, that the future of England's health and social care system relies on its people. Now in its fourth year, the 'We are the NHS' campaign is back to champion the extraordinary work of nurses, AHPs, and healthcare support workers to inspire a new cohort to consider a career in the health service and be part of the NHS's future. To find out more about the range of roles available, search NHS Careers.