The anniversary marks a decade since the signing of a Memorandum of Understanding between the two institutions, which established the Keith B Taylor Global Scholars Programme (KBTGSP) – named after the inspirational late-former Vice-Chancellor of St George's University. Commemorations of the long-standing relationship began in January 2017; the start of the tenth year.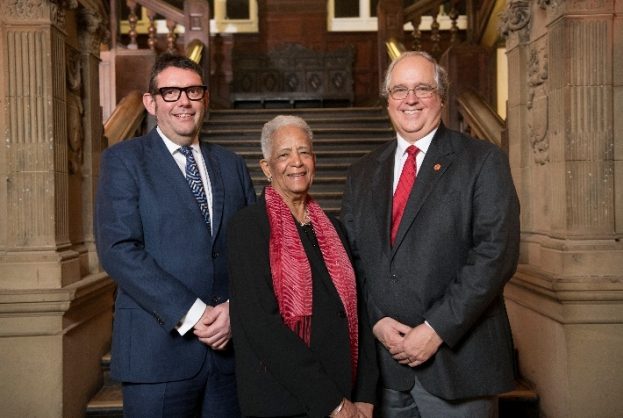 The KBTGSP allows students on SGU's four-year medical degree to complete the first year of the basic sciences component of their course at Northumbria University. This enables students to gain a valuable insight into cross-cultural medical practices, and experience of living and studying in an international setting. Since its inception a decade ago, over 1,800 students have enrolled in the Programme, where they follow the same successful curriculum as offered to students in Grenada.
Remarking on the success of the partnership, Dr David Holmes, Associate Dean of the KBTGSP, said, "The Programme has been exemplary in demonstrating that two universities based in different countries can cooperate in developing an academic programme that produces true 'global scholars'. The academic success of the KBTGSP students, and their consistently high praise of their experience on the programme, and of living in Newcastle, is testimony to the efforts of members of both universities."
The 10-year anniversary dinner was held on Wednesday 10 January in Northumbria University's Great Hall. A welcome address was be given by Professor Peter Francis, Deputy Vice-Chancellor at Northumbria University. A welcome speech was also given by Dr G Richard Olds, President of St George's University. Guests included Baroness Howells of St Davids, President of the Windward Islands Research and Education Foundation (WINDREF) and the only Grenadian in the House of Lords.
Commenting, Professor Peter Francis, Deputy Vice-Chancellor of Northumbria University, said, "This anniversary marks a significant milestone in the relationship between Northumbria University and St George's University, and also coincides with our 25-year anniversary as a University. Northumbria has a global reputation for delivering academic excellence and the partnership with St George's is just one demonstration of that. For ten years, students on the Keith B Taylor Global Scholars Programme have enriched Northumbria's rich academic community through their academic and extra-curricular contributions and we are delighted to have helped to develop doctors who are saving lives across the globe, thanks to this relationship. I look forward to the partnership continuing into the future."
Speaking on the importance of the collaboration, Dr G Richard Olds said, "There is no substitute for a well-rounded medical education in producing world-leading physicians, and gaining experience in international settings is invaluable. Our students are fortunate to have this opportunity available to them in their first year, and benefit significantly from their time at Northumbria. The KBTGSP is an ideal international program for medical students who wish devote at least a portion of their professional lives to the service of developing countries, underserved regions of the world, or international NGOs. Developing students with such ambition is a key aim of SGU".
On 11 January, the day after the anniversary dinner, the next intake of students were welcomed onto the KBTGSP in a traditional White Coat Ceremony. Having been 'robed' in their white coats, the students made a professional commitment to the medical profession.
As part of the anniversary celebrations of the partnership between Northumbria University and SGU, alumni of the Keith B Taylor Global Scholars Programme have been sharing their memories of their time in Newcastle. Dr Joshua K Ramjist MD joined the Programme in 2007. He said, "The Global Scholars Program was hands down the best experience of my life. I would do it again in a heartbeat. I was able to focus on my study skills and develop as a student".
Dr Jessica Best now works in Emergency Medicine at University Medical Centre Brackenridge in Austin, Texas. She completed the first year of her basic sciences on the KBTGSP, and also spent time studying in Thailand as part of SGU's two-week elective course. Commenting on her time at the University, she said "I was able to live and learn in all these wonderful places, and form an opinion on what works and what doesn't. I'm happy to share my experience with prospective students".