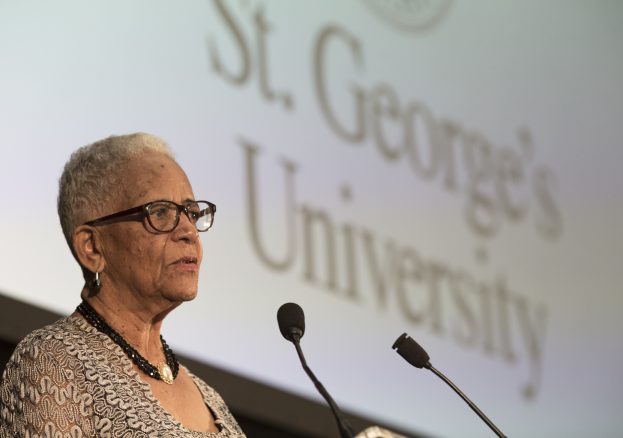 The relationship between the two institutions, now in its eleventh year, enables the SGU and NU students to take the first year of their MD degree – basic sciences – at Northumbria University, before going to Grenada to continue their studies.
The occasion was marked by a traditional White Coat Ceremony on 17 August, where the students were 'robed' in their white coats, a symbol of the medical profession, before taking an oath of commitment to use their training for the benefit of others. A key focus of the KBTGSP is to encourage medical students to devote at least a portion of their professional lives to the service of developing countries, underserved regions of the world, or international NGOs.
Leading the occasion was Master of Ceremonies, Gordon Bourne MD – a recent graduate of SGU and faculty member of the KBTGSP at Northumbria, where he serves as a clinical tutor. As the grandson of SGU's first Vice Chancellor, Dr Geoffrey Bourne, and nephew of its third Vice Chancellor, Dr Peter Bourne, his family has a long history with SGU. A former Royal Marine, Dr Bourne spent seven years working and travelling in Sub-Saharan Africa, principally working with anti-poaching units in Tanzania. "Learning how to adapt and how to survive" is as useful in medical school as in the marines or the bush, he told the students.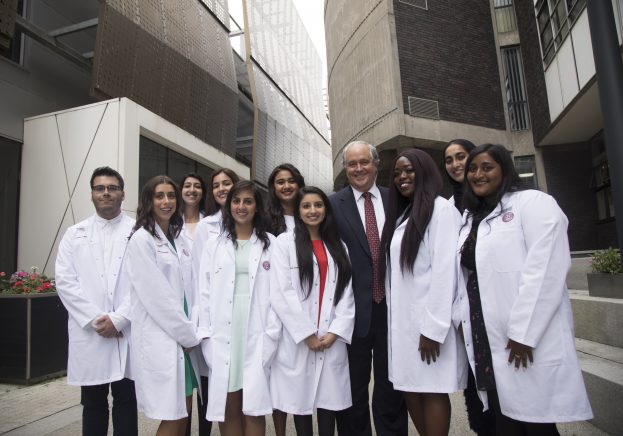 Dr Bourne introduced Baroness Howells of St Davids, the only Grenadian in the UK's House of Lords and president of the Windward Island Research and Education Foundation (WINDREF) – a research foundation which collaborates with SGU.. Baroness Howells welcomed the students, and remarked, "You will enjoy your time at this splendid university before continuing your studies at SGU in Grenada, where you can bask in the land of perpetual sun".
The keynote address was delivered by Dr G Richard Olds, President of SGU. In his speech, Dr Olds told three personal stories from his medical career that shaped him into the doctor he is today. "I hope to leave you with something you remember for longer than you are in this room", he said. Dr Olds emphasised, in all three cases, "always do what's best for your patients, ahead of all other considerations."
Having been robed in their white coats, the students joined their friends and families at a reception, before taking their first steps into a career in medicine.