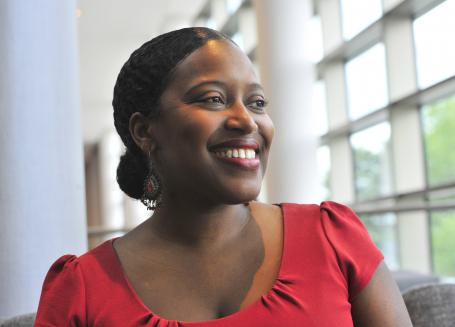 The first thing you notice about writer and performer Tonya Bolton is that she's a plain speaker – great fun and charming too, but she pulls no punches.
For speaking the truth has had life changing consequences for Bolton through her one-woman show Holy & Horny which celebrates sensuality and spirituality while tackling tackles taboo issues around sexual and domestic abuse within black and Asian communities.
And by speaking the truth about her own experiences Bolton, a former assistant pastor with the Kingdom of David Church, has changed the lives of others who have watched her powerful production.
It has given them the confidence to speak out about issues they have buried in their hearts for years, often leading lives blighted by needless shame.
Bolton sees silence as the enemy. She says: "By speaking the truth we become leaders of our own lives. We drive change and we realise our dreams.
"By me speaking the truth, it has encouraged others to do the same – and that's the greatest gift I could give to myself and my community.
"Following the play's first sell-out regional run in 2012, a man in prison for rape wrote to me, while women have told how it helped them to leave an abusive marriage or face up to the fact they have been raped by someone within their own family.
"For many it's a light bulb moment about something they have been in denial about. I'll admit that, although the play is extremely funny, there are some uncomfortable scenes."
Bolton felt driven to write Holy & Horny when she discovered that black and Asian women are the least likely to report any sexual or domestic abuse, while the play also highlights that women of faith shouldn't ignore their sexuality or sexual health.
Actually performing the play is both physically and mentally exhausting as Bolton plays no less than 20 different characters, including Sheila the play's central figure, who is a frustrated Christian woman.
Delve back into Birmingham-born Bolton's childhood and you find the roots of her writing and acting talent.
As virtually the only black girl in an all-white private school, Bolton, who has a Jamaican father and a Cuban mother, received her own fair share of racist abuse, often being hit by teachers for no real reason.
"It made me realise for the first time the power of difference," said Bolton.
"I remember being very angry with the world for a time, including my parents and we became estranged. I left home at 15, but thankfully, my play has brought us back together and we are so close now."
Bolton suffered a long abusive relationship between the ages of 15 and 25 and was raped when she was 18.
Writing, she says, saved her life, and she went on to put herself through university, gaining a degree in English and gender studies, before studying for an MPhil in theological studies and an MA in screen writing for film and television.
By founding ICU Transformational Arts – an acronym for Impacting lives, Creating healthy mindsets and Unlocking potential – Bolton has managed to combine Holy & Horny, and also her other play Hidden with significant educational outreach work, officially known as Breaking the Silence, empowerment programme for girls.
Hidden, which is also a solo play, focuses on vulnerable girls between the ages of nine and 16, who are groomed and sexually exploited by older men and perhaps self-harm.
"There is so much information about grooming, but very few preventative programmes," explains Bolton, who was recently announced as the 2015 winner of the Marsh Trust Award for outstanding achievement in work with children and families.
"Out of 4,000 girls around the country who have taken part in the Hidden outreach programme, 35 per cent have since come forward with stories of abuse."
Meanwhile, Bolton is busy preparing for her final farewell tour of Holy & Horny this October and November with four performances a week, before taking the play to New York, Los Angeles and Atlanta next year.
Bolton will be staging Holy & Horny at Fairfield Hall in Croydon on October 8 and the Drum arts centre in Birmingham on October 10, while also performing at well over a dozen different venues from Sheffield, Nottingham and Manchester to Enfield and Portsmouth.
Next year she will be staging her latest production called Man Up, aimed at empowering boys.
There's no stopping Bolton, despite the setback of the Arts Council turning down her funding request.
"Some artists make the mistake of relying too much on funding," she smiles. "Not me – if I have a dream or a goal I will achieve it by any means necessary."
Now that sounds like plain speaking.
To book to see the last ever UK performances of Bolton's extraordinary play visit www.holyandhorny.com