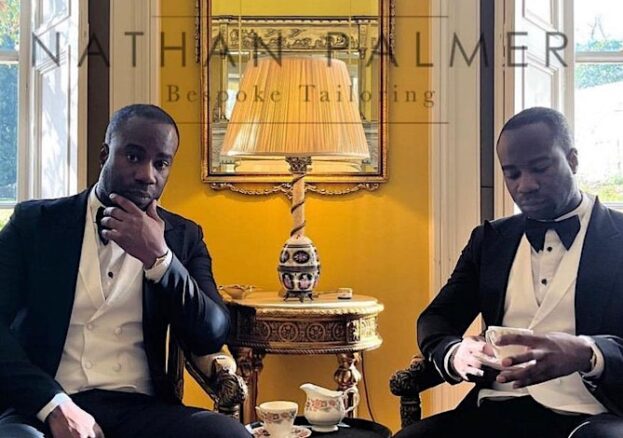 We are thrilled to invite you to this exclusive event partnered by 'Candour Talent' recruitment agency, which is making a spectacular return after a five-year hiatus. Working alongside 'Tenovus Cancer Care' prepare to be transported back in time and immerse yourself in a night of opulence, fashion, and entertainment like no other.
Upon your arrival at The Royal Welsh College of Music and Drama on the enchanting evening of Friday, July 21st, you will be greeted with a glass of exquisite champagne. As you step onto the red carpet, cameras will flash, and the press will eagerly await the opportunity to capture your impeccable style. This is your moment to shine and make a lasting impression.
The highlight of the evening will undoubtedly be the unforgettable celebrity catwalk show. Witness as the finest period-styled suits, uniquely infused with the signature Nathan Palmer twist, grace the runway. The mesmerizing combination of live DJ beats and the enchanting melodies of a string quartet will set the perfect atmosphere, elevating the fashion experience to new heights, featuring Nathan Palmer's street wear brand Perverse Demand.
For those seeking an all-encompassing evening, we invite you to indulge in our Gala Dinner. After the fashion show, guests opting for this exclusive package will be treated to a delectable three-course meal, meticulously curated to delight your senses. As you savor each bite, prepare to be entertained by a hilarious comedian and a captivating musical performance, ensuring an evening filled with laughter, joy, and unforgettable memories.
And let's not forget the exciting goodie bag awaiting you at the end of the night, brimming with delightful surprises from our generous product sponsors.
But it's not just about the glamour and entertainment. At Nathan Palmer, we believe in giving back to the community. A portion of the ticket sales will be donated to the incredible charity Tenovus, allowing us to make a positive impact together.
Mark your calendars for Friday, July 21st, and dress to impress in your finest black-tie attire or elegant floor-length gown. The night's schedule promises an evening of enchantment:
7:00 pm: Arrive in style and walk the champagne-drenched red carpet, accompanied by a beautiful string quartet.
7:30 pm: Take your seats in the Concert Hall, anticipating the start of an extraordinary show.
7:45 pm: The curtain rises, and the fashion spectacle begins, transporting you to the grandeur of the 1800s.
8:15 pm: The fashion show concludes, and our dining guests will be escorted to the foyer.
8:30 pm: Indulge in our Gala three-course dinner, accompanied by captivating entertainment that will keep you enthralled.
10:30 pm: Last orders – savor the remaining moments of the night.
11:00 pm: Drinking up, but the memories will linger on.
11:30 pm: Taxis await to ensure your safe journey home.
Tickets for this extraordinary event are limited, and prices vary depending on your choice of attending the show or joining us for the Gala dinner with entertainment. Don't miss this opportunity to be part of a night that will be remembered for years to come.
Date and time: Fri, 21 Jul 2023 19:00 – 23:00 BST
Location: Royal Welsh College of Music and Drama North Road Cardiff
Book Ticket here
Tickets: £40
For more information and to secure your place at the Nathan Palmer Bespoke 1800's Black Tie Gala, visit our website at Nathanpalmer.co.uk. We can't wait to welcome you to an evening of timeless elegance, fashion, and philanthropy. See you there!