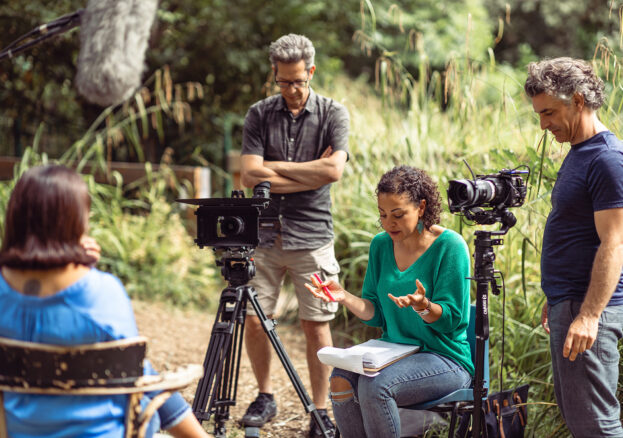 The Colour of Transformation features contributions from Miranda Lowe CBE (Natural History Museum), Rhiane Fatinikun (Black Girls Hike), Chantelle Lindsay (CBeebies), Nadia Shaikh (Right to Roam) Orphy Robinson MBE (British jazz multi-instrumentalist), Bumi Thomas (singer-songwriter) and more.
It is accompanied by an artist's film directed by Bryony Benge-Abbott working with an award-winning team of creatives. The project is supported by Butterfly Conservation, the William Morris Gallery and Patagonia.
Bryony Benge-Abbott is a British-Trinidadian visual artist whose practice sits at the intersection of, science, spirituality and social justice. Through interdisciplinary works, she explores the diverse perspectives of, and dimensions to, our relationship with the natural world. In 2019 the Mayor of London highlighted her as a 'hidden credit to the city' as part of International Women's Day celebrations.
The documentary introduces seven women sharing stories of personal and systems change as they pursue careers in the fields of conservation, land justice, the outdoors and natural history. After agriculture, the conservation industry is the second least diverse sector in the UK. This documentary challenges dominant stereotypes about who 'belongs' in these spaces. Creating more expansive ways of thinking about nature conservation and leadership, the film highlights the importance of empathy, self-care, authenticity and community along a journey of transformation
The artist's film conceived and directed by Benge-Abbott has been devised by a team of award-winning creatives responding to the theme through spoken word poetry and music, and painted fabrics animated by dance
Inspired by William Morris Gallery's retrospective of iconic Trinidadian textile designer Althea McNish, whose vibrant botanical patterns injected life into mid-20th century British design, Benge-Abbott led experimental mark-making workshops with the public in the gardens surrounding the gallery. Motifs from these drawings evolved into a new collection of painterly silks that designer Ingrid Hu used to create the costumes and set for the film. Dancers Carolyn Bolton, Ming and Oluwatosin Omotosho developed choreography in response to the biological process of metamorphosis. Composer Orphy Robinson MBE and vocalist Bumi Thomas devised a musical score to carry audiences along a soulful journey of rebirth.
Bryony Benge-Abbott said: "As the creative team developed a response to the documentary, what emerged was a kind of lullaby and an imagining of what we might ask if we could speak to a chrysalis in the midst of transformation. What can we learn from this mysterious biological process? It also became an invocation, working with pattern, movement and music to conjure new languages to stir deep, instinctual knowings of our belonging to nature. The resulting film grapples with the fear and beauty of letting go of the patterns and stories that block our potential for change."
The films have been specifically created to be shown during Black History Month as outdoor screenings in Meanwhile Gardens, London over three evenings. By projecting these stories directly into the public realm, the project addresses the missing visibility of Global Majority women in conversations on the response to the ecological crisis. The films have been developed with the intention to inspire and empower future generations and young people of colour to claim space and participate in nature conservation in ways that feel authentic. The films also encourage audiences to engage in longer-term thinking as they reflect on the both ancestral knowledge we inherit and the legacies we leave behind.
Bryony Benge-Abbott said: "By bringing together scientists, cultural historians, activists, conservationists, local community groups, artists, designers and performers The
The Colour of Transformation will be screened during Black History Month from 27-29 October at Meanwhile Gardens, London W10 for more information and to reserve free tickets visit:
Editors Notes:
Press contact: for interviews and more information please contact: Binita Walia, The Space inBetween PR, binita@thespaceinbetween.co.uk, 07734507799
Short Credit: The Colour of Transformation is a film project by artist Bryony Benge-Abbott. It is funded by Arts Council England, Butterfly Conservation, the William Morris Gallery and Patagonia.
More information: https://bryonybengeabbott.com/thecolouroftransformation
Press images: Google Drive folder link
Further Information:
Meanwhile Gardens is on the route of the Notting Hill Carnival.

 

The Wellcome Trust funded network, 'MedEnv: Intersections in Medical and Environmental Humanities' also provided funding to this project, alongside support-in-kind from Action for Conservation.

Youth Ambassadors at Action for Conservation are creating a web resource pack for young people interested in getting involved in conservation.
Link to Miranda Lowe CBE's paper 'Nature Read in Black and White: decolonial approaches to interpreting natural history collections' LINK
Listings info:
Venue: Meanwhile Gardens, 156-158 Kensal Road, London, W10 5BN
Dates: 27, 28 & 29 October 2022
Times: 18:00, 18:50 & 19:40
Running Time:  Approx. 45mins
Tickets:  Admission FREE, but booking is required in advance