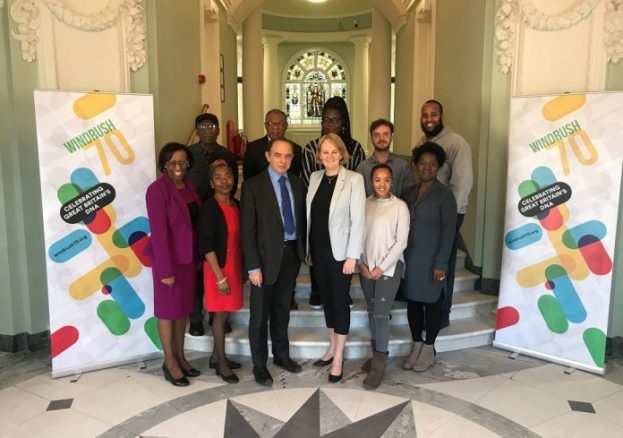 Lambeth is a borough rightly proud of its openness and diversity with a pivotal role in the Windrush story . It was to Lambeth that the majority of the passengers from the Caribbean headed when they disembarked the MVWindrush at Tilbury 70 years ago. It was in Lambeth Town Hall that so much of a new musical heritage was heard and of course, where the famous No Colour Bar Dance was held in 1955. So, it was very fitting and a great privilege for me to be in the refurbished Town Hall in March for the launch of the Windrush70 logo and website designed by young people from the Brixton based social enterprise Champion Design.
Alongside Communities Minister Lord Bourne, my fellow councillors Sonia Winfred and Donatus Anywanu were representatives from The Voice, Brixton Design Trail, the Windrush Foundation and Young Lambeth Cooperative. It was the inter-generational mix that was so inspiring and I know that Young Lambeth Coop are working with the Windrush Foundation on a series of workshops and talks to commemorate Windrush70. The enthusiasm of both, despite the decades of age difference is remarkable and it is clear that young people have a real thirst for knowledge and understanding about the Windrush Generation and the massive impact on Britain. How very fitting that the tag line for Windrush70, created by Champion's young designers is 'Part of Great Britain's DNA' .
Over the last few years we have all witnessed and been appalled by shocking acts of violence , borne out of intolerance and ignorance. Social media has become a space for misogyny, racism, homophobia and bullying . Siren voices fuelling xenophobia and antipathy towards 'other people' have grown louder since Brexit which is why it is so important that Windrush70 is not just a commemoration of a voyage made by several hundred people but how their legacy has changed all our lives – culturally, socially, economically and politically.
Lambeth has been and continues to be enriched by people who come and make their homes here. I am proud that we have welcomed more Syrian refugee families than any other borough in London and I know, admire and appreciate the contribution made by Portugese, Somalian and Ethiopian communities.
Phrases like 'diversity' and 'melting pot' don't do justice to what migration means and brings. How many of us could imagine uprooting and making a new life in a different country, whether by choice or out of desperation ? Regardless of any material possessions, what people bring are treasured memories and knowledge from their lives and other lands – recipes passed down from great , great grandmothers, songs and stories from distant childhood, music, art, literature, skills, imagination and ideas.
Lambeth is marking Windrush70 with a range of events, exhibitions, debates, performances , talks and tours and I'm delighted that after extensive refurbishment the Town Hall will host many of those – including a tea party for older residents, a special performance by the Phoenix Dance Theatre and an exhibition of Harry Jacobs's photographs.
Politicians, governments, experts and academics the world over argue and debate the importance and very notion of integration. While that dance in Lambeth Town Hall over 60 years ago might now seem a rather clumsy attempt at managing integration, the intention was to show that Lambeth was a borough that would not tolerate the racism faced by many of its new residents. And that holds true today. Lambeth is open, tolerant and proud of its diversity – as the Windrush70 logo says, it's part of our DNA.
As we mark the 70th anniversary of the arrival of the MV Windrush, I truly hope we embed that tolerance and openness even more in Lambeth . To paraphrase Barak Obama , we are a borough of immigrants. We were strangers once, too.
We are working with our partners to build a #BetterLambeth – find out more at http://love.lambeth.gov.uk/bett