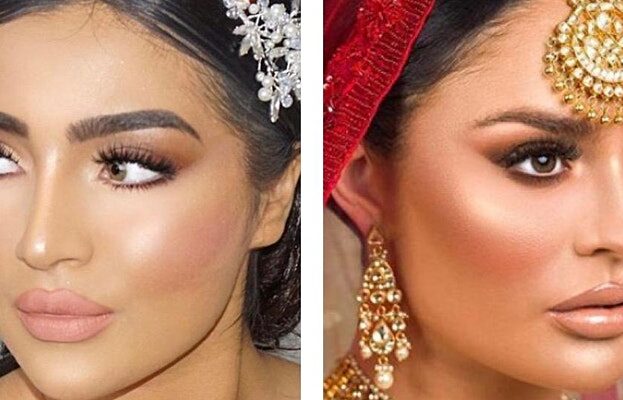 Students will watch make-up demonstrations and follow with in depth discussions, theory and technical product / application guidance and teaching support.
Students will learn 4 full make-up looks demonstrated by Gina Badhen over the 2 Day Workshop (2 new looks per day).
Live Make-up Demonstrations
The first make-up look will be demonstrated on a professional model.
4 models will be used to demonstrate each make-up look
(1model per look) of all different skin tones and ethic backgrounds.
Including: Asian, Caucasian, Afro Caribbean and a model with problematic skin such as acne / skin discolouration.
TEACHING
Your tutor will use a range of different make-up products each teaching day to create class demo looks. Over 30 different make-up brands and colours are available for students to use and work with during the teaching day.
SKIN
This will range from various brands of concealers, foundations, setting and finishing powders to cater to different skin types, tones and textures. Your tutor will go into deep theory and practical knowledge on the best products needed to create a flawless finish for dewy, matte, velvet, satin and glass skin looks.
This will also include the best products and techniques needed to give your client a skin analysis according to the best textured product for them, including: liquid, cream and mouse based products for a flawless filter finish that will last 16hours +
Contour and highlight techniques will be taught to suit different face shapes. Learning how to contour and shape your clients face to disguise a small lips to look fuller, double chin, hooked / or bumped nose and larger forehead.​
​Real life model will also be used to showcase how to work best with: pigmentation, uneven skin tones, acne, dry / oily or dull skin.
EYES
This will range from various brands of eye shadow products with a matte, shimmer, glitter and gloss finish. Suitable eye shadow shapes and colours to create the illusion of the perfect almond eye shape. Your tutor will teach you how to create bigger, feline shape eyes and disguise hooded eyes to suit and accentuate your client's eye colour, hair colour, skin tone and face shape. The use of lashes and knowledge of how different shapes will help sculpt your client's eye shape and face.
Which Looks Will I Learn?
Celebrity Signature Glam Make-up Look
Gina Badhen is known for her stunning signature red carpet glam make-up look on celebrity super stars like: Cardi B, Cassie and Maya Diab. Learn Gina's secrete to creating the most sought after make-up style for perfect photo finish foundation and ultra HD glow without flashback. Creating the feline, big bright eye shapes using careful eyeshadow and blending techniques.
A step by step practical guidance and demonstrations of how to create the glamorous beauty and fashion look. Brown / Black smokey eye influenced makeup: You will learn detailed application techniques for vibrant make up looks, introducing colour powders and cream textures to a matte and wet look eye shadow finish. Also covering the popular smokey eye & middle eastern influenced styles created using different techniques including cream shadows, pigments, black track and the art of blending according to specific brushes
Bridal Make-up x2
This day is dedicated to the two highly sought after bridal make-up looks. This covers glitters and their application techniques while working with textures and high colour pigments in order to create vibrant impact. Learning the most up to date make-up trends and styles. Gina is known for her flawless filter finish make-up for the perfect bridal look using the most up to date nude, orange, peach and pink colour tones. Gina will demonstrate the best make-up products and techniques to ensure the bridal make-up lasts 16+ hours and looks flawless in person, on camera and feels light weight full coverage.
Asian Bridal Make-up
Middle Eastern Bridal Make-up
Problematic Skin – Transformational Before / After Make-up
This transformational make-up look is dedicated to REAL LIFE skin and features. The chosen model will have acne / discolouration to showcase the best products and techniques to disguise with a natural finish.
Product knowledge and best buys available
Flawless Foundation & Concealerches, redness & scarring)
Eyeshadow blending / Creating almond shape eyes & illusion of bigger feline shaped eyes
Perfecting your eyeliner flick
Working with glitter eyeshadows & pigment – best ways to mix and blend lasting textures
Contour, Sculpting & Highlighting
NOSE CONTOUR / FACE for all shapes and sizes
Blusher & Bone structure
Colours to suit your skin shade
Eye-brow grooming
Individual and Strip Lash application
The perfect pout! Learning to correct way to overline lips to create bigger looking lips
How to create lasting dewy skin
Colour correcting (dark circles/pat
Workshop Timetable
11AM – Students Arrive On Site
11AM – 2PM – 1st Make-up Demonstration
2PM – 3PM – Lunch Break
3PM – 6PM – 2nd Make-up Demonstration
Reminders
Each Make-up Demonstration will allocate time for students to openly interact with Gina and ask questions while they watch. Time will also be allocated for students to take photos and videos of the final make-up Looks.
Videography of the teaching process is not permitted.
This is a Private Make-up Workshop that will only allocate 20 tickets to allow for an intimate 1-2-1 teaching experience. Clear visibility and comfortability to ask questions and interact with your teacher.
Lunch
Snacks & Refreshments Complimentary throughout the Day.
Lunch will not be provided but your ticket will allow you a special discount to the beautiful venue Broski Lounge – Middle Eastern Cuisine.
If you have any further questions please do not hesitate to contact our team directly via email: info@ginabadhen.com
www.ginabadhen.com
IG: @GINA_BADHEN
More City of London Listings MORE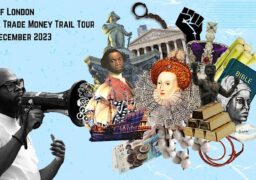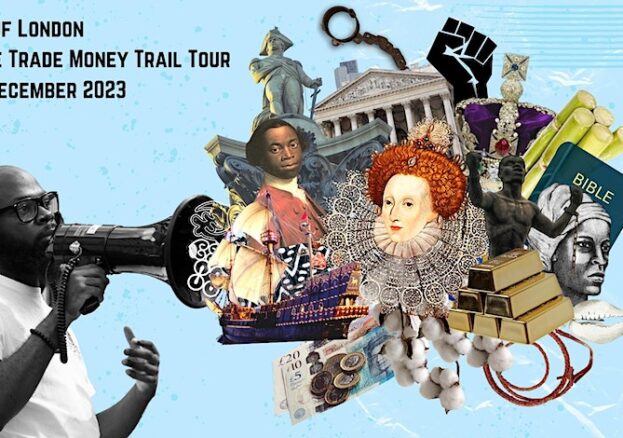 City of London
Saturday 2th December
Find out how London keeps its memory of the glorification of stolen African lives that capitalised the "streets…