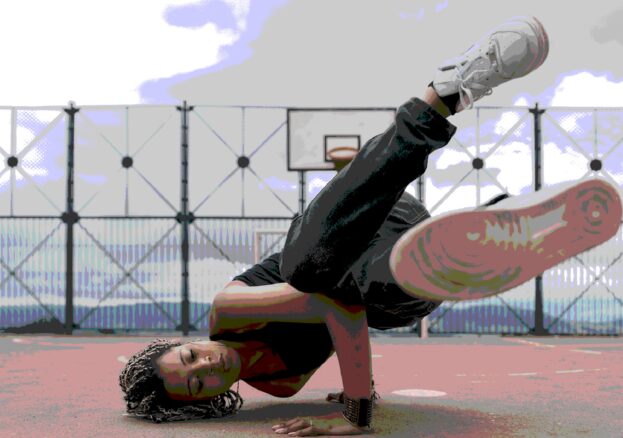 This event is to celebrate 50 years of hip hop with Baby J from the UK's first dedicated hip hop school, Baby People on Forman Street, Derby and Devon Daley, a DJ you might have heard on BBC Radio Derby.
Throughout the event, there will be a DJ set, live performances and an interactive discussion with Baby J and Devon about hip hop and its five elements and about Black women in hip hop as we continue to 'salute our sisters' after Black History Month.
This event also celebrates our community, which can be seen by the event visual props being designed by the local Derby community.
Between 4-6pm, we will have food and drinks available, all supplied with food and drinks vouchers available upon entry.
This event is free to attend. Please book your place through our form so we can organise any special catering requirements. If, however, you don't have a chance to book, you are still welcome to attend the event, please bear in mind we may not be able to provide any specific catering supplies in this case.
The music event will run from 6-9pm.
This event is bought to you by the University of Derby Race Equality Network (REN), University of Derby Music Production BSc (Hons), The University of Derby Galleries Network, Derby CAN, Derby Theatre, Baby People and Devon Daley. All are welcome, staff, students, and the public. See you there!
What is Hip Hop?
In August 2023, we celebrated 50 years of hip hop, exploring its channels, and platforms for expression. What emerged from hip hop was innovation and creativity, a new style of music and fashion.
Hip hop emerged from the South Bronx section of New York City in the late 1970s. If you thought you knew everything about hip hop – think again! Did you know, there are five elements of hip hop? These are:
MCing: the art of rapping or spoken word poetry
DJing: the art of mixing and scratching records
Breakdancing: the art of acrobatic and rhythmic music
Graffiti: the art of writing or drawing on walls or other surfaces
Knowledge: the awareness of self and the history and philosophy of Hip Hop
Each of these elements are fundamental to the creation of hip hop. If you're interested to hear more about the history of hip hop, then come to the Atrium at the University's Kedleston Road site on the 9 November.