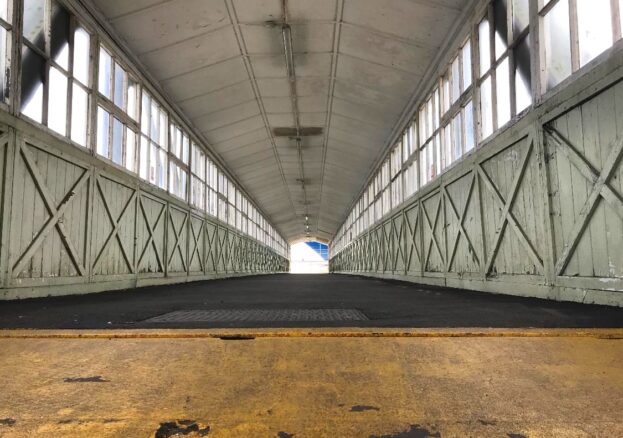 The installation is an immersive visual art experience, installed on 432 panes of glass collaged with photographs, documents, boat passenger tickets and memorabilia, in an original passenger walkway 55 metres long. As you walk through, you can listen to audio stories about the lives of some of the elders whose images are featured in the installation.
To access the audio soundscape, using your own device download a QR reader and scan the QR codes placed on images in the installation. You can then download individual stories on your devices and determine your own listening experience. With over 160 minutes listening time in 10-minute segments across 23 listening windows, visitors are encouraged to experience the sounds, atmosphere and architecture of the bridge to immerse in the artwork.
We would like to thank the many people who responded to our call out for Windrush Stories. We received contributions from across Essex, the UK and abroad! Over 130 people from the Windrush era and their families are memorialised through images and audio, telling stories in their own words of their resilience, the lives and families they created and their contribution to British society.
This artwork and soundscape are symbolic and a testimony to those that arrived on SS Empire Windrush and the many that followed that journey to the UK.
The installation will open to the public during our launch weekend with a programme which is repeated three times over two days giving visitors more opportunities to attend one of the events.
19th September 2020
Event 1- 10am-1:30pm,*
Event 2 – 2pm-5:30pm *
20th September 2020
Event 3 – 3:30pm-6pm. *
*Tickets for the opening weekend are free and are available from Eventbrite from the 2nd September on a first-come basis with a strict limit to comply with Government Guidance on social distancing. Our Covid-19 guidance is posted on Eventbrite which you will need to read before you book your ticket. Follow this link to book your place:
During the opening launch weekend, Tilbury Bridge art installation will be used as a back drop to a series of live performances from Actor and Singer Gary Cordice and performance poet Nairobi Thompson, curated by Artist EVEWRIGHT. The theme of 'Transition for renewal' will be explored through sound, movement, and words. Visitors will also have an opportunity to tour the main terminal on both days.
The installation will then remain open daily from 10am-6pm for visitors for you to see the artwork at your leisure through to Spring 2021. Keep up to date via our website and social media platforms for news of any further activities during Black History Month and beyond.
This artwork and soundscape have national significance, creating art and telling stories of people from the Windrush generation in their own words. Tilbury Cruise Terminal and this location is symbolic. The art installation aims to educate and commemorate and is a testimony to those who arrived before, and in 1948 and the many that followed that journey to the UK.
Travel & Accessibility
The cruise terminal is accessible for wheelchairs and pushchairs and free parking is available on site. If arriving by public transport the nearest station is Tilbury Town and a Tilbury to Gravesend Ferry service is available Mon-Sat. Please see your Eventbrite ticket for more details of how to get there.
COVID-19 STATEMENT
We will continue to monitor and follow government guidance on the COVID-19 pandemic and social distancing to ensure the safety of our staff and visitors to our outdoor events and other activities.
Please share this newsletter with your networks. Keep up to date with the latest information see our website and follow us on our social media platforms or contact: