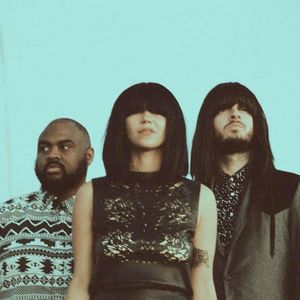 Texan trio Khruangbin is formed of Laura Lee on bass, Mark Speer on guitar, and Donald "DJ" Johnson on drums. Taking influence from 1960's Thai funk – their name literally translates to "Engine Fly" in Thai.
The seeds of Khruangbin were sown when Mark and Laura were invited to tour with Ninja Tune's YPPAH supporting Bonobo across his 2010 American tour. The tour galvanised the two to start making music together more seriously, with DJ – he and Mark have played in the same gospel band for years – the natural choice for drums.
Sharing their first recordings, Bonobo included Khruangbin's 'A Calf Born In Winter' on his 2013 Late Night Tales compilation. Subsequently signed to Late Night Tales offshoot Night Time Stories, 'A Calf Born In Winter' was released as a single in May 2014 and saw support from DJs Zane Lowe, Cerys Matthews, Tom Ravenscroft, Gideon Coe, Don Letts and magazines as musically diverse as i-D, The 405, Clash, Ransom Note, Test Pressing and For Folk's Sake.
Four track EP 'The Infamous Bill' followed in October, with covers EP 'History Of Flight' on Record Store Day 2015. The band's debut album 'The Universe Smiles Upon You' was released in November 2015 to widespread acclaim. 'The Universe Smiles Upon You' steeped in the bass heavy, psychedelic sound of their inspiration, Tarantino soundtracks and surf-rock cool, was recorded at their spiritual home, a remote barn deep in the Texas countryside.