Bassist and bandleader Gary Crosby brings Jazz Jamaica back to Hideaway for a festive Christmas special! Mixing up jazz and ska classics, bringing in some reggae vibes and performing with a swing and zeal that has made them festival favourites around the world, Jazz Jamaica have rightly earned their reputation as 'one of the UK's leading good-time bands' (The Independent).
"Jazz Jamaica should be permanent ambassadors to the United Nations of Good Times." Cheltenham International Jazz Festival
In 1991, inspired by the rhythms of traditional Jamaican music and the largely improvisational nature of jazz, original Jazz Warrior and veteran jazz double bassist, Gary Crosby, turned a musical concept into a joyful reality. Crosby's concept was to create a quintessential fusion of mento, ska, reggae and jazz, playing classic and modern jazz standards alongside Jamaican folksongs. The result was Jazz Jamaica.
Since its realisation, Crosby has developed the Jazz Jamaica concept by introducing a stream of talented young jazz musicians, so increasing the size of the pool of Jazz Jamaicans, and enabling him to push the boundaries of the music played. Collectively, Crosby and his musicians represent the finest exponents of this unique musical fusion known as skazz, a fusion loved and appreciated by everyone, of all ages and colours around the globe. In 2002, Jazz Jamaica All Stars were winners of the BBC Radio Jazz Award for Best Band.
Crosby's leadership and drive continue to ensure the evolution of Jazz Jamaica – a process that is encapsulated by the recent headline grabbing collaborative project "Catch A Fire" that saw the band join a 240 voice choir, the Urban Soul Orchestra and Brinsley Forde (Aswad) in a celebration of the music of Bob Marley at the Royal Festival Hall.
Line up: Gary Crosby – Double Bass/Leader, Cherise Adams-Burnett – Vocals, Camilla George – Alto Sax, Denys Baptiste – Tenor Sax, Mark Kavuma – Trumpet, Harry Brown – Trombone, Ben Burrell – Piano/Organ, Shirley Tetteh – Guitar, Pete Eckford – Percussion, Daniel Crosby – Drums, & Special Guests
A Hideaway joint promotion in association with Jazz Jamaica.
More Lambeth Listings MORE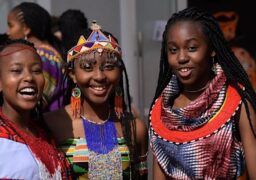 Lambeth
Saturday 9 December
The workshop aims to educate young people about their heritage which will help them develop a positive sense…