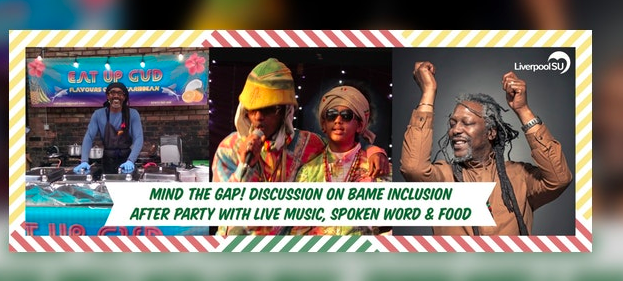 Join LiverpoolSU for a discussion with leading figures working on BAME inclusion, brought together to discuss the attainment gap and inclusivity within Higher Education. Hosted by your SU President Yasmin Ibrahim, this debate will bring together 5 key speakers from NUS, Operation Black Vote and Local Parliament giving you the opportunity to learn more about the gap, ask questions & find out how to make change with your Students' Union.
Join us after the discussion for a celebration of diversity event with live music, spoken word and traditional food. Tickets include entry to the after party event with:
Live music from dub duo Scratchylus & Empress Reggae
Spoken word performance by legendary reggae poet Levi Tafari
Free buffet of delicious Caribbean curries from traditional street food vendor Eat Up Gud
Debate: 4.30pm – 5:45 pm, John Foster Building
Meet up: 6pm onwards at The CASA, Hope Street
PANEL SPEAKERS INCLUDE:
• Ilyas Nagdee, Black Students' Officer at NUS
• Sanjee Perera-Child, CEO of the Athena Project, a mentorship programme for female BME scholars in Higher & Further Education in the UK. Trustee at Plymouth Marjon SU
• Cllr Anna Rothery, Mayoral lead for Equalities / Alumni of Operation Black Vote
About LiverpoolSU, the Students' Union for LJMU students
Iya.
We're LiverpoolSU, the Students' Union for all LJMU students.
We're here to help you get the most out of your time at uni and out of the amazing city of Liverpool.
We help you to become a part of the student community, do the best you can on your course and improve the student experience.
Follow us to keep up to date with the massive range of events we put on exclusively for LJMU students throughout the year with some of the biggest & best venues in the city.
And here's our website for everything else: www.liverpoolsu.com
More Liverpool Listings MORE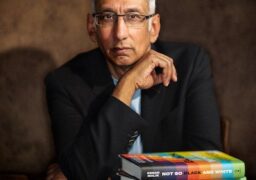 Liverpool
Wednesday 6 December
Writer and broadcaster Kenan Malik upends assumptions underlying today's debates around race, culture, whiteness and privilege by explaining…