Vanitas Arts, a Story Production Company are launching a new audio drama podcast in celebration of 'those we have lost & choose to remember' in this year's Black History Month in the UK.
This podcast tells the story of one of the most important Black female activists in American history. An educationalist, civil rights leader and suffragette, Mary McLeod Bethune who changed the lives of many African Americans against the backdrop of facing the danger of the Ku Klux Klan and their supporters.
Born in 1875, the fifteenth of seventeen children to former slaves; Mary devoted her life to activism and ensuring African Americans maintained the right to freedom from discrimination; opening schools, colleges, and Universities, advising US Presidents and ultimately becoming a member of Roosevelt's Black Cabinet in 1932.
The audio drama featuring extracts from the drama 'I Leave You Love', The Mary McLeod Bethune Story is written by Dr Anita Franklin, a Northern based playwright. An African American writer, Anita specialises in developing work that explores the impact of oppression on marginalised individuals and communities and their self determination and empowerment. She brings her lived experience, academic, writing, and creative skills to this unique and exciting collaboration.
The audio drama extracts are set alongside discussions between Dr Franklin, Director Amanda Huxtable and Writer Desirée Reynolds, all Northern based female artists, and activists
"Vanitas Arts loves searching for and finding stories long forgotten or neglected and sharing with the world. We are very proud to be building a home where storytellers can build together with us a world we have all been waiting for.' Amanda Huxtable and Shirley Harris,
Vanitas Arts
Digital Storyteller and Co-Director at Vanitas Arts Amanda Huxtable says; "The principles that Mary McLeod Bethune fought for still stand today; access to quality education or even education itself, equity for Black women and women in a wider context and those of us who face racism.
"I doubt Mary would have been impressed by pace of progress made so far, but I hope she would be proud and maybe even a little thrilled to know about our honouring her by acknowledging and cherishing the empowerment of her story."
Dr Anita Franklin said; "I'm proud to share my writing about Mary McLeod Bethune's story. In doing so we can see not only a wealth of political activism in recent history from an American Black Female Leader who cared about Black people and women in particular, progressing worldwide. We can examine our own activism and lives in the context of such a remarkable life from humble beginnings."
Desirée Reynolds said "Working with Vanitas Arts on this podcast taught me so much about Mary McCleoud Bethune, about resilience, women's resilience and how much we have yet to learn about whose shoulders that we stand. Vanitas continues to deliver high quality work and this new podcast, combining fiction and discussion gives the listener a chance to delve into the world of Mary McCleoud Bethune and to witness what we mean by female friendship and the honouring of who went before."
Episode one of the audio drama will be available for download from x October from the Vanitas Arts website – www.vanitasarts.co.uk – with more to be broadcast over the next few months, where the subject of Fear, Hope is Not Enough and Moving Forward will be the focus of three subsequent episodes.
Following the broadcast of the audio drama, Vanitas Arts will be taking the full drama into live performance in venues across the North of England.
More Sheffield Listings MORE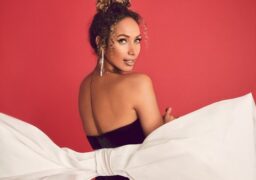 Sheffield
Wednesday 6th December 2023
This is really really difficult for me to express so please bear with me. I put my all…