When two young black slaves escape into the wilds of 18th-century Scotland, they must use all of their courage and strength to survive, unite, and stay free. 1745 highlights a forgotten part of Scotland's history: while Scotland was fighting for its national freedom in that fateful year, its economy was in large part founded on the booming colonial slave trade. While the majority of slavery happened elsewhere – off-stage, across the Atlantic – there were African slaves in the UK, kept as trophies and pets in the houses of their rich merchant masters.
1745 was inspired by advertisements that writer, Morayo Akandé, discovered for runaway slaves, placed in Scottish newspapers of the time.
Showing as part of Black History Month, the film is introduced by Dr Arun Sood in conversation with the University of Glasgow's Marenka Thompson-Odlum, whose research looks at the intersections between civic art collections and transatlantic slavery in 18th-century Scotland.
Director: Gordon Napier
Cast: Morayo Akandé, Moyo Akandé, Clive Russell.
Film running time: 19 mins
More Events in the South West Listings MORE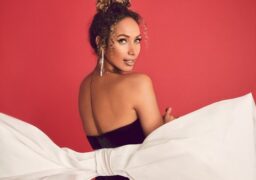 Bournemouth
Friday 8 December
Record-breaking global sensation Leona Lewis has announced a major UK tour for Christmas 2022. Leona's evening of Christmas Classics…