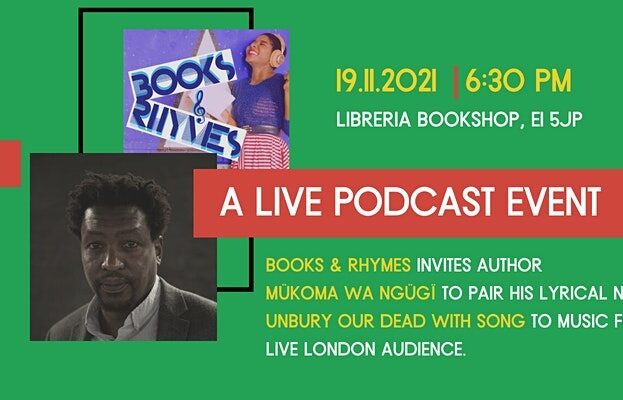 Books & Rhymes invites author Mükoma wa Ngügï to pair his lyrical novel Unbury Our Dead With Song to music for a live London audience.
Live in London, author Mükoma wa Ngügï will be conversing about his groundbreaking, lyrical ode to music, beauty and imagination: Unbury Our Dead With Song. In conversation with chart-topping podcast Books and Rhymes, Mükoma will be invited to pair his book to music while discussing the journey to bringing this book to life.
Unbury Our Dead With Song is a novel blending Kenyan and Ethiopian culture and honouring Tizita; also known as Ethiopian Blues that has been likened by critics to James Baldwin's "Sonny's Blues" and Toni Morrison's "Jazz" in the way that the writing carries the cadence of the music that drives the action.
Join this live conversation and be a part of this one-of-a-kind podcast recording in the heart of East London. Mükoma wa Ngügï will also be signing books for all attendees.
About the Book
Unbury our Dead With Song is a novel about four talented Ethiopian musicians – The Diva, The Corporal, the Taliban Man and Miriam, who are competing to see who can sing the best Tizita (popularly referred to as Ethiopian blues). Taking place in an illegal boxing hall in Nairobi, Kenya, the competition is covered by a US educated Kenyan journalist, John Thandi Manfredi, who writes for a popular tabloid, The National Inquisitor. He follows the musicians back to Ethiopia in order to learn more about the Tizita and their lives. As he learns more about the Tizita and the multiple meanings of beauty, he uncovers that behind each of the musicians, there are layered lives and secrets. Ultimately, the novel is a love letter to African music, beauty and imagination.
About the Author
Mukoma Wa Ngugi is an Associate Professor of English at Cornell University and the author of The Rise of the African Novel: Politics of Language, Identity and Ownership, the novels Mrs. Shaw, Black Star Nairobi, Nairobi Heat, and two books of poetry, Logotherapy and Hurling Words at Consciousness. He is the co-founder of the Mabati-Cornell Kiswahili Prize for African Literature and co-director of the Global South Project – Cornell.