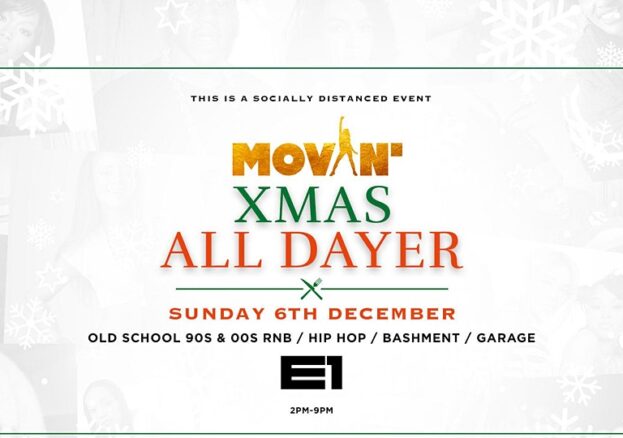 What a year we have all had, so the Movin' team have decided to put on a very special event to cheer us all up.
Come and let your hair down and party on Sunday 6th December from 2 pm – 9 pm at E1 London.
When you arrive, we want you to imagine its New Year's Eve by coming with the right attitude, great vibes and full of energy.
Movin' The Xmas All-Dayer – will be 7hrs of fun-filled entertainment whilst listening to your favourite R&B/Hip-Hop DJ's playing all the bangers that you love from the '80s, '90s & 00's all day long.
On the day 'Over The Grill' will be providing the finest *Caribbean cuisine (paid separately) with a *Happy Hour between 3 pm– 4 pm so please arrive early.
If your birthday falls between DEC 1 – DEC 21 you will gain free entry between 2 pm – 3 pm (photo I.D required).
2020 hasn't been a great year so let's drown our sorrows and see out the year in style!
*Ticket Terms & Conditions*
– 6 people only per table and ALL GUESTS MUST ARRIVE TOGETHER.
– Guests MUST wear masks when walking to and from the table/toilet/smoking area
– No swapping tables
– Only one person to go for a cigarette from the table at one time.
– Only one person can leave the table to go to the toilet at one time.
– If there is a wait for the smoking area they must go back to their table and return when there is no queue.
– Should these rules not be followed we may ask guests to leave.
– Table service is mandatory; guests may order via a waitress.
-PROOF OF PHOTO I.D
*Caribbean Meal Sold Separately
*Happy Hour between 3 pm–4 pm.
*If for any reason the event gets cancelled due to Covid-19, all customers will receive a full refund