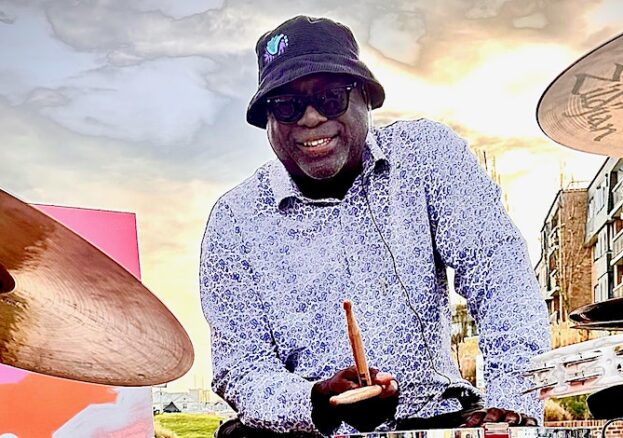 Mike McKenzie talks with Mia Morris OBE about his passion for music, film and photography alongside demonstrating his show reel.
Westminster Music Library with Black History Maker presents an interactive talk and presentation from Insights Program Mia Morris OBE FRSA and Mike McKenzie.
Mike McKenzie – My journey via Music, Film, and Photography is your opportunity to engage with an award winning multi media specialist. McKenzie shares his passion for music, film and photography, demonstrating his show reel plus taking questions from members of the audience.
Learn about McKenzie's current influences and tips for the future at the beautiful Westminster Music Library in Leicester Square.
Biography
Mike McKenzie – born in London to Jamaican parents.
In the creative world I started out playing drums as a teenager playing many styles of music but my 1st real paid job as a musician was with steel bands. I either playing bass pan or drum kit. It was this style of music that took me all over the United Kingdom and Abroad like Spain, Trinidad, Germany, Abu Dhabi, Kuwait, Dubai, Doha , Vienna ,Italy etc. I worked with Paul Cherrie and Max Cherrie (Solid Steel) and many other great musicians during this time.
It was at this time I worked with Russ Henderson on many gigs as drummer and really enjoy playing with him, along with listening to his stories about the world of Steel Pan, so when I became a filmmaker/Photographer in 2007 I set up my company called DrumCamFilms. Russ Henderson was one of the 1st people I approached about making a documentary and he said yes. I love taking photos of live music in action.
The documentary was shown at the Portobello Film Festival 2009 and won best audience film. This was also screened at various film festivals in London, Trinidad, Barbados and an article in Pan Podium about Russ, the film and me.
My latest film project is a film called Be-Longing, which was screened at the Lexi Cinema in Kensal Rise. This film was about a young 9 yr. old boy in Foster care.
I have Backed many artist and like Kevin Leo, Imaani, Noel Mckoy, Janet Kay, The Rum Band , Laura Matthews Band, Errol Linton band and Osibisa where to went to Budapest to perform Oct 23.
Mia Morris OBE FRSA- born in London to Grenadian parents
Mia Morris OBE FRSA came to prominence during her period in the 80s working with Alex Pascall and Juliet Alexander on Black Londoners for Radio London where she presented the youth slot. Mia also worked as event consultant for the Ethnic Minority Unit at the Greater London Council on the Anti Racism Year, Third Eye Film festival and the Black Experience.
Mia is a cultural community activist and in the past ran 3 successful websites www.wellplaced.co.uk; www.black-history-month.co.uk and www.international-womens-month.co.uk (now no longer accessible), plus a very successful speakers bureau which meant that a lot of African and Caribbean authors academics and activists are paid for their services by the heritage community.
Mia Morris OBE FRSA was awarded an OBE in 2011 for her services establishing black history month website in the UK.
More Westminster Listings MORE
Westminster
Until January 2024
For Black Futures Season 2023, a new exhibition focusing on influence of scientific ideology, racism and resilience will…