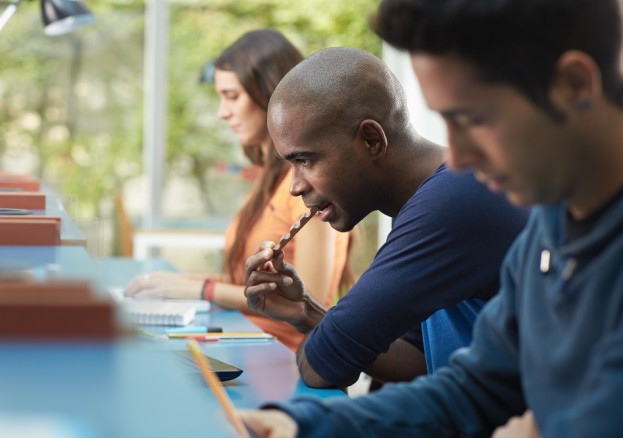 Apprenticeships offer a valid alternative to university, with the qualifications to match. If you choose a degree apprenticeship, you still get to graduate with your cap and gown, along  with several years of work experience under your belt. First and foremost, though, an apprenticeship is a job with substantial training and the development of transferable skills. It's a way to earn and learn, gaining a real qualification and future. And, best of all, no university debts: you'll have been earning for the length of your apprenticeship and there are no tuition fees to pay.
What is an apprenticeship, exactly?
An apprenticeship is a combined package of work and study. As an apprentice, you'll be employed by a company and paid a wage for the work that you do.
How does an apprenticeship work?
You'll spend most of the week at work (a minimum of 30 hours) watching and learning, but mainly having a go yourself. You could be learning from colleagues across all levels of the business, typically working closely with someone more senior who will review your progress and coach you. You'll also spend time attending college, a university or training provider, or training at work. You might attend one day per week, sometimes called 'day release', in blocks of a week or more ('block release') or study online through e-learning. Some schemes use a combination of options; your employer will decide which method works best.
Which level is right  for you?
Apprenticeships are offered at a range of different levels, from intermediate (level 2) upwards. If you're looking for an option after A-levels (or other level 3 qualifications), a higher or degree apprenticeship is worth considering.
Essentially, a higher apprenticeship leads to a higher education-level qualification (at level 4, 5, 6 or 7). Qualifications on offer include NVQ level 4, HNDs and foundation degrees. Degree apprenticeships offer a full bachelor's or master's degree.
Course duration and entry criteria Apprenticeships last a minimum of one year, but at higher or degree level, you could be looking at up to four, five or six years. Entry requirements depend on the sector and your prior skills (see page two), with employers looking not just at grades but other aspects that demonstrate your potential – from work experience to an understanding of their field. Even with A-levels you may still be expected to start at an intermediate or advanced level in job areas such as engineering, while you build up your occupational skills.
Money, money, money
If you're aged 16–18, or aged 19 and in the first year of your apprenticeship, you'll earn at least the minimum wage for apprentices. Some companies pay more than this, particularly for higherlevel apprenticeships. Recent vacancies at  this level show wages from around £170 to £300 per week (see  page six). In addition, your employer and the government pay your tuition fees, meaning no university loans for you!
Pros and cons
The combination of work and study means that apprenticeships aren't an easy option; you'll need to be focussed and committed to succeed. It can be tough to get in, too. Employers are looking for top calibre individuals and opportunities are still relatively limited. Around 500,000 new students start undergraduate study in the UK each year, compared to tens of thousands of new higher apprentices. Employers want committed candidates, so do your research.
You may find there are penalties for leaving programmes early (paying back course  fees, for example), although not all organisations do this.
On the plus side, you could gain:
Higher-level qualifications
Professional accreditation and membership
Job-specific skills sought after by employers
A degree without the tuition fees
A long-term career path and the possibility for higher earnings.
Got what it takes to be the next apprentice? You've heard what an apprenticeship is, but how do you know if it's right for you?
An apprenticeship is not an easy option. You'll be starting a challenging job and trying to prove yourself in the workplace, while getting to grips with studying for a degree. You will be expected to achieve academically and at work, managing your time and adjusting to longer hours with fewer holidays than at school or university. You might have to travel or relocate to find the right opportunity for you.
What are employers looking for? Apprenticeships are designed by employers, meaning you'll be developing the right skills and knowledge to be a success in your chosen industry. As such, they're looking for the right combination of personal aptitude and enthusiasm in their apprentices. It's about more than just your academic ability; in fact, some employers don't ask for specific grades at all. It really helps if you have a particular interest in the area of work you are applying for and can demonstrate this from previous experience. Perhaps you've had some work experience which proves your relevant skills or you have an interest or hobby that fits in with the role or the company. Anything that can demonstrate your commitment, your interest and your readiness for work could help you stand out from the crowd.
What grades do I need? Academic requirements vary from programme to programme.
• BT requires BCC at A-level for applicants to their IT degree apprenticeship.
• GlaxoSmithKline is asking for 240 Ucas points from three A-levels including biology or chemistry for their Level 5 laboratory technician higher apprenticeship.
• Grant Thornton doesn't look for minimum academic criteria for their Level 4 accounting apprenticeship, instead looking for "interesting candidates who can show that they've done some great things outside of their studies".
Which jobs offer apprenticeships at this level?
There are around 75 different higher and degree apprenticeships covering some 100 job roles, from accounting and advertising to aerospace engineering, with new apprenticeships being developed all the time. You can even become a qualified solicitor. Not all jobs are represented yet, but more highly-skilled apprenticeships are popping up each year. Big companies like Rolls Royce, GlaxoSmithKline, Goldman Sachs and BAE Systems offer degree apprenticeships, but you'll also find smaller companies offering them, too.
The financial stuff What you'll pay, what you'll earn
Who pays the fees?
Apprentices don't pay tuition fees! Your employer will contribute and the remaining funding comes from the government. This means degree apprentices can graduate debt-free, earning a wage at the same time. In contrast, English students taking a fulltime university degree will typically pay around £9,000 per year in tuition fees. On top of that, there are dayto-day living costs to consider, rent or travel costs, equipment and materials.
What could I earn?
The current National Minimum Wage for apprentices is £3.30 per hour*, but most employers offer more than this. Businesses looking for top apprentices know that they need to offer a competitive salary. The minimum wage for apprentices applies to 16-18 year-olds, or 19 year-olds in the first year of their apprenticeship. After that, apprentices are eligible for at least the minimum wage for their age group.
• Engineering degree apprentices at Jaguar Landrover start off on £18,550 per year. Salaries increase every six months subject to meeting expectations, with apprentices expected to earn over £35,500 per year on completion.
• Higher apprentices at Virgin Media start off on £17,500 per year, increasing to £21,000 based on good progress.
• National Grid pays its higher apprentices a starting salary of £23,500 per year.
Many employers advertise roles with a 'competitive salary'. This could mean the salary and benefits will be in line with similar roles for other organisations or that it depends on your current skills and experience.
Other financial benefits Alongside the salary, some firms offer other benefits including a pension, access to a car, leisure facilities or a relocation allowance if you have to move. Apprentices are entitled to the same rights as other employees: a contract of employment and at least 20 days paid holiday per year, plus bank holidays.
Apprenticeship discounts
You'll be classed as an employee, rather than a student, so you won't be entitled to student discounts, but the National Union of Students (NUS) has now brought out an NUS Apprentice Extra Card. For £11 per year you can get discounts on lots of brands. See more at www. apprenticeextra.co.uk. You may also be eligible for discounts on public transport, with many schemes running on a local basis, like the Apprentice Oyster photo card in London, which gives apprentices 30% off certain journeys.
.