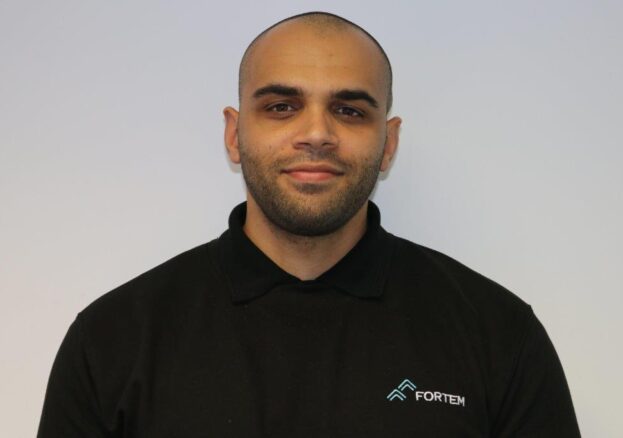 "I was just getting by and I knew that things needed to change," says Karl. "I knew that I wanted a career rather than a job, something that would allow me to develop and grow and earn a good living – and plumbing seemed like a really good option."
Finding an apprenticeship proved difficult, so Karl took the initiative by attending evening classes at Walsall College and gaining an NVQ in Plumbing and Gas. This put him in a much stronger position when he applied for a Plumbing and Gas Apprenticeship with Fortem, a property maintenance contractor for Birmingham Council. "The assessment exercise and interview were quite intense," recalls Karl, "but the company and its training academy really impressed me. I thought, this is perfect!"
When Karl was offered the apprenticeship, it marked a major transition in Karl's life. On the one hand, it was the start of a long-held ambition. On the other, it required significant personal adjustment. "Leaving my previous job and salary meant that I had to give up my flat and move back in with my Mum," says Karl. "But I really wanted this. At the age of 28, I felt it was now or never. I put pressure on myself to make the change – and it turned out to be the right decision."
Now in his final year of the apprenticeship, Karl is conscious of how far he has come in terms of his technical and professional development. He puts much of his success down to the support of his company mentor: "He's an apprentice by training and has travelled the same path as me. Thanks to him, my hands-on skills developed really quickly." This success is reflected in the fact that Karl was shortlisted for the recent BAME Apprentice of the Year Award – an accolade reserved for apprentices who are acknowledged to stand out from their peers in the industry.
But Karl has developed in other ways, too. By his own admission, Karl wasn't the most confident person at the start of his apprenticeships, but engaging with dozens of council tenants has changed all that. "Building good relationships with customers is now second nature. It's a part of the job that I've grown to enjoy."
Having a supportive employer has also played its part. "We don't install boilers, for instance," says Karl. "So when I needed that installation experience, they arranged for me to work with a subcontractor." The company also seeks and shares positive feedback on the performance of its apprentices. "For example, I received a 'Made a Difference' award when a tenant phoned the company to say how well I had done on a particular job. That's the best kind of feedback you can get, and it makes everything worthwhile," says Karl.
Karl's successful progression comes as no surprise to his JTL Training Officer, Paul Walton who notes that because Karl was in his mid-twenties when he began, he brings real maturity and commitment to his team. "It struck me from the start that Karl saw his apprenticeship as a genuine pathway to a career," says Paul. "He is a great role model for others who may be thinking about doing an apprenticeship, particularly slightly older candidates and those from under-represented communities."
Karl does not see himself as a role model in any conventional sense, however. "If I have any influence, particularly within the BAME community, it is only because others can see the path I have travelled. I took a chance and it worked out really well. If that encourages someone to follow my example, I am more than happy with that!"
He believes choosing to do an apprenticeship was a defining decision in his life, and he looks forward to mentoring others who make the same choice: "I would recommend an apprenticeship to anyone. As long as you are eager to learn and give your all, it's one of the best things you could possibly do. Just give yourself the chance. You won't regret it."
If you are interested in an Apprenticeship like Karl visit www.jtltraining.com