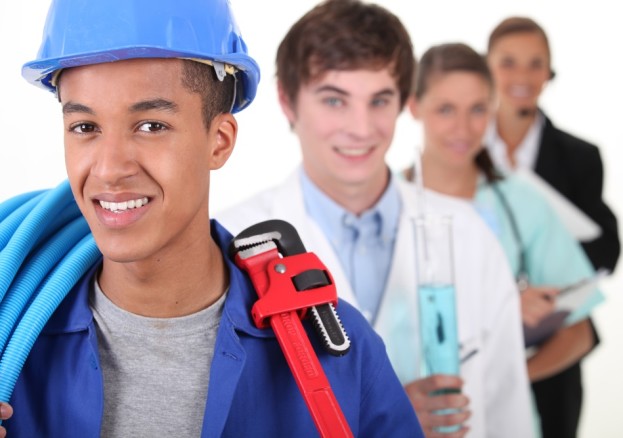 There are four levels of apprenticeship:
Intermediate Apprenticeships, roughly equivalent to five GCSE passes at grades A* to C.
Advanced Level Apprenticeships, which are equivalent to two A-levels
Higher Apprenticeships, which can lead to a HND, HNC or foundation degree
Degree Apprenticeships, which lead to a full undergraduate degree and include study at a university
What are the differences?
Although the main difference between different levels is how advanced the skills and knowledge you learn will be, there are other things to remember too:
Higher levels might require more qualifications: for example, some Higher Apprenticeships require you to have A-levels.
Apprenticeships in some areas are only available at particular levels. For example, Emergency Care is only available as an Intermediate Apprenticeship.
Your apprenticeship may last longer at a higher level, although this can vary.
A Higher Apprenticeship can lead to a professional qualification, such as a Certificate in Finance, Accounting and Business (CFAB).
There are fewer apprenticeships available at Higher and Degree level than at the other levels.
What stays the same?
You apply for apprenticeships the same way whatever level they are at.
The minimum wage you must be paid is the same for all apprenticeships, although your employer can choose to pay you more. Higher-level apprenticeships often pay more.
Can I change levels?
Apprentices don't normally move from one level to another during their apprenticeship, but it's fairly common to complete training at one level and then move on to the next. In some cases, you might apply for a programme that combines two (eg. a three-year course with one year in an intermediate apprenticeship and two in an advanced apprenticeship). Alternatively, you can apply for a higher-level apprenticeship when you are coming to the end of your current one, in which case your employer may be willing to keep you on.
Levels of Apprenticeships
There are three levels of apprenticeship available. All lead to a relevant work-based qualification such as an NVQ/SNVQ at either Level 2, 3 or 4. They may also lead to Key Skills or Functional Skills qualifications. (Examples of Key Skills are problem solving, communication, new technologies or working in teams. Examples of Functional Skills are Maths and English.) There may be other specific qualifications relating to the occupation and industry.
Intermediate Level Apprenticeships will provide you with the skills you need for your chosen career, while providing you with a work-based learning qualification (providing you meet the required standards). These qualifications might be an NVQ/SNVQ Level 2, Key Skills or a more knowledge-based qualification such as a BTEC.
Once you complete an Intermediate Level Apprenticeship, you can apply for an Advanced Level Apprenticeship. These are also open to people who haven't done an Intermediate, but who have five GCSEs at grade C or above. The Advanced Level leads to an NVQ/SNVQ Level 3, Key Skills or knowledge-based qualification such as a BTEC.
If you complete an Advanced Level Apprenticeship, you are eligible to apply for a Higher Apprenticeship. These lead to an NVQ/SNVQ Level 4 or, possibly, a Foundation degree at a higher education institute.