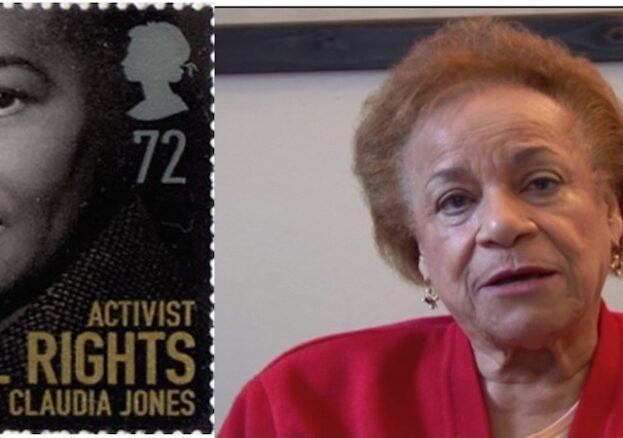 Talking About Claudia Jones And Other Inspirational British African Women
You are going to be reading about Trinidadian-born Claudia Jones, one of the greatest British African civil rights activists, ever. And hopefully a senior citizen reading this may be able to answer a puzzling question about Jones. But before we find out more about her, in the Akan Sankofa tradition, we'll first have to go back, before bringing the story forward.
I'm a history consultant with a particular interest in black music and global African history. Earlier this year I was contracted to deliver a talk at Battersea library on Tuesday October 20, as part of Wandsworth's African History Month programme. But like many things in a Covid-19 world, it's been moved online, and now those near and far can join through Zoom.
In April, the Trinidadian-born educationalist and community activist Dame Jocelyn Barrow died a few days short of her 91st birthday. I was blessed to have been invited to her 90th birthday the year before, having built a cordial relationship with her since filming her as one of the seven subjects of my 2009 DVD entitled 'What They Said I Should Be: The Story of African British Female Movers & Shakers'.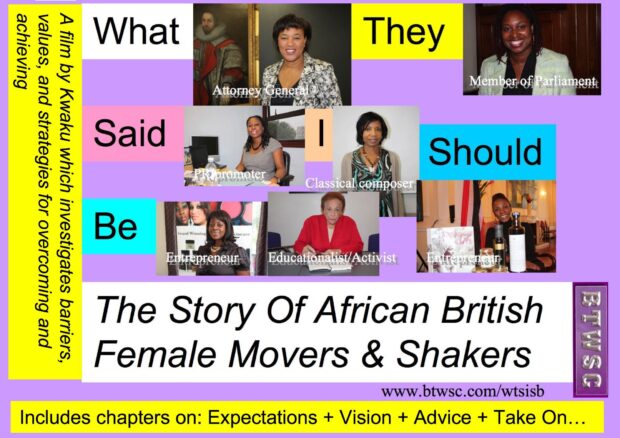 So as a tribute to Dame Jocelyn, it was decided that the DVD would be screened to kick off the library's 'Exploring The Legacies: Dame Jocelyn Barrow And Other inspirational British African Women' event, as part of Wandsworth's African History Month programme.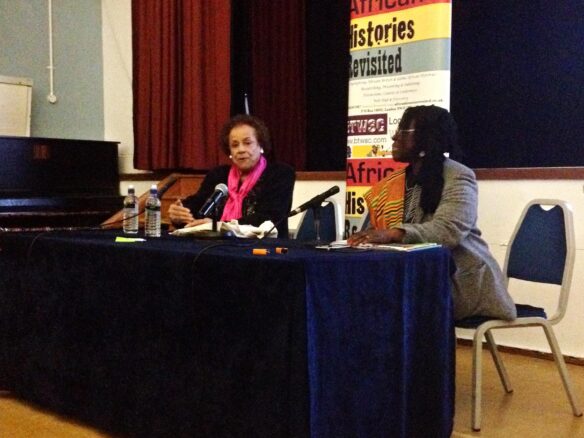 Although a long-time Camden resident, Dame Jocelyn was a patron of the Brixton-based Black Cultural Archives, and has a fascinating story about her education and activism work in south London. One of the ways she used her profession as a teacher and teacher trainer was to develop the Caribbean Communications Project, which taught working adults literacy skills.
It was on a visit to a Brixton community education project that she discovered the colour bar operating in the local Marks & Spencer. Although there were several African people in the store, none of the sales staff was African.
Noticing an in-store publicity for sales staff, she decided to go through the motions of applying for a position. When the manageress said there were no vacancies, not only did she tell the manageress to then take down the vacancy notice, she also made sure the manageress saw a personal letter addressed to her from Lord Sieff, then chairman of the Marks & Spencer business. Suffice to say, it wasn't long before Africans were being employed in that branch!
In addition to those featured on the DVD – a lawyer and then Attorney-General Baroness Scotland, an MP Dawn Butler, a classical music composer Shirley Thompson, a PR/Promoter, Mavis Amankwah, and two entrepreneurs Yana Johnson and Dounne Alexander, the presentation is also in memory of Jessica Huntley, Olive Morris, Cecile Nobrega and Claudia Jones.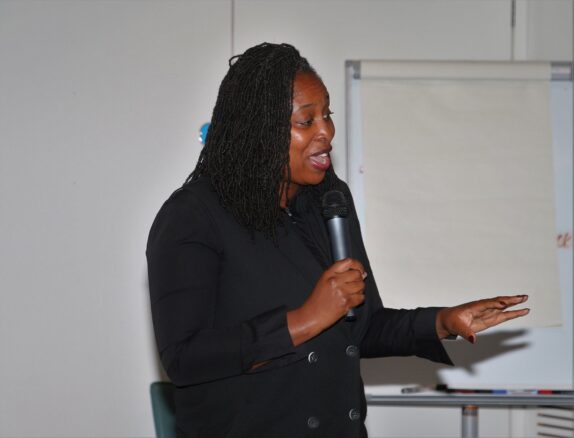 Guyanese-born Huntley (23 February 1927 – 13 October 2013) was a book publisher, whose community activism I believe was confined mainly to west and north London. However, considering she was often called out by parents to represent their children either in school or in court, she could well have obliged parents in south London histories. She was in any case part of the New Cross Massacre Action Committee, which organised the Black People's Day of Action in response to the unsolved New Cross fire of 1981.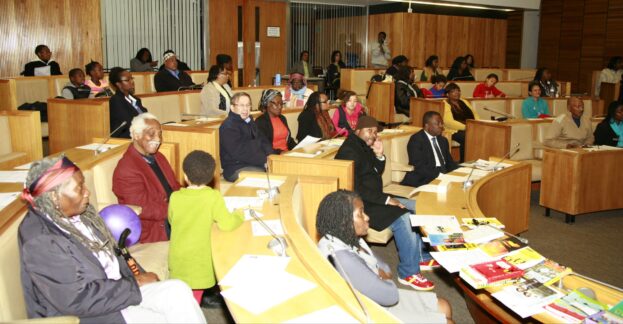 For Olive Morris (26 June 1952 – 12 July 1979), the point worth noting here is that her short 27 years of life belies the amount and range of activism she was involved in, mainly around Brixton. The Jamaican-born activist of the 1970s was a member of the British Black Panther Movement, Organisation of Women of African and Asian Descent and the Brixton Black Women's Group. She was an ardent squatter rights activist, which makes it interesting that Lambeth Council named one of its buildings after her.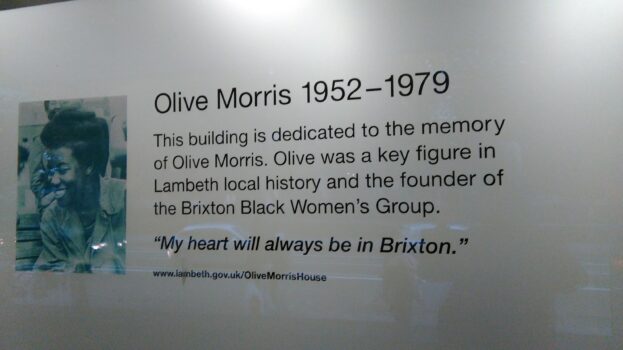 We hope the edifice that rises on the site of the recently demolished Olive Morris House will retain the activist's name. Clips from the 'London African History Through Representation In The Capital' video will show the old building, and the plaque unveiled by Morris' mum inside the building.
Clips from that video will also show the Bronze Woman, a statue in Stockwell Memorial Gardens, inspired by the eponymous poem by Guyanese-born poet, educator, and playwright Cecile Nobrega (1 June 1919 – 19 November 2013). Unfortunately Covid-19 has put paid to the annual remembrance held in the Gardens. There is, by the way, a plaque in her honour on her former Stockwell home in Nealden Street.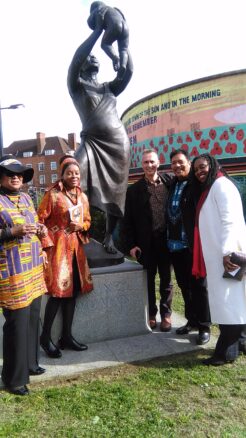 There is a local history and location board in Stockwell Memorial Gardens which states that Claudia Jones (21 February 1915 – 24 December 1964) worked at the Stockwell bus garage. We are keen to corroborate this information. So if there are any readers with long memories who know about Jones working, possibly as a typist, in the bus garage, either contact this publication, or you are welcome to explain in person at the October 20 event, which can be booked at www.bitly.com/BriAfriWomen.
Most readers who know of Jones are likely to locate her activities north of the Thames. She very much involved in community activities around Notting Hill, particularly in the aftermath of the 1958 race riots. The indoor Caribbean Carnivals her West Indian Gazette newspaper organised between 1959 and 1964 were around west and central London. And she lived and died in north London.
But she can also claim to be a south Londoner. Because she's believed to have lived in two Lambeth locations. The records show that she lived on Meadow Road, near Oval between 1958-60, and possibly at another property close to Stockwell.
However the organ for her campaigning work across politics, community, racism, feminism, workers' rights and internationalism, was the West Indian Gazette. This monthly, which wasn't the first British African newspaper, was definitely one of the most influential. Jones run the paper from south London.
Set up in 1958 above Theo Campbell's record shop at 250 Brixton Road, this was where the paper's sponsored carnivals were planned, and where she held court with politicians, diplomats, academics, community activists, and people for a flair for selling the perennially struggling paper. Of the latter, the late former Southwark mayor Sam King and Windrusher and Croydonite James Fairweather, were circulation manager and advertising manager, respectively. In 1963, the paper moved to Station Avenue, near Loughborough Junction.
There can hardly be any form of activism concerning London's African communities in which Jones was not involved in. The carnival of 1959 was partly meant as a fundraiser to help with legal bills for those caught up in the judicial system, following the 1958 race riots in Notting Hill.
She was part of organisations that fought against racism and colonialism. She campaigned against the passing of the 1962 Commonwealth Immigrants Act, which rolled back rights of settlement, and numbers, of immigrants particularly from the non-dominion parts of the British Empire.
Jones was famously at the front of the London march to the US embassy in solidarity with the March on Washington for Jobs and Freedom in 1963, where Martin Luther King delivered his famous 'I Have A Dream' speech.
She supported the shot-lived West Indies Federation of 1958-62, and was an avowed Communist, who visited Russia, and China, where she met the then leader Chairman Mao. Jones' last name is actually Cumberbatch, but chose Jones to hid her identity as a journalist and organiser of the US Communist Party based in Harlem, New York.
Jones was caught up in the height of the McCarthyism era witch-hunt against Communists. She was jailed in the US for her Communist membership and deported to Britain in 1955.
When you are next in Brixton library, look above the first floor reception, where you will see a photo of Jones with her comrade in community activism and the first wife of pan-Africanism icon Marcus Garvey – Amy Ashwood Garvey, fellow Communist and victim of McCarthyism singer/actor Paul Robeson and his wife, and Lambeth Mayor Alderman JW Calder and his wife.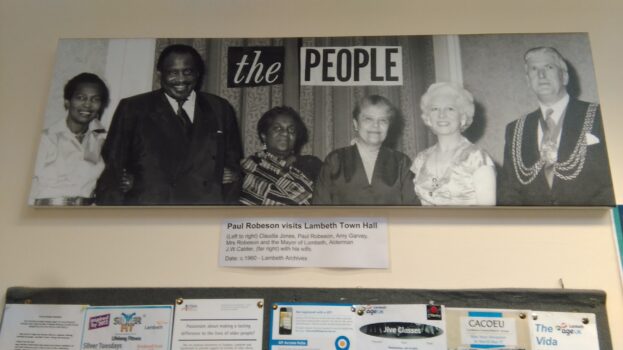 Lastly, Jones has been erroneously dubbed "Mother Of Notting Hill Carnival", which was started after her death. A more accurate title would be "Mother Of Caribbean Carnival". However the most befitting accolade is simply, "Civil Rights Activist", which was how she was described on the Post Office stamp issued in 2008 with her image.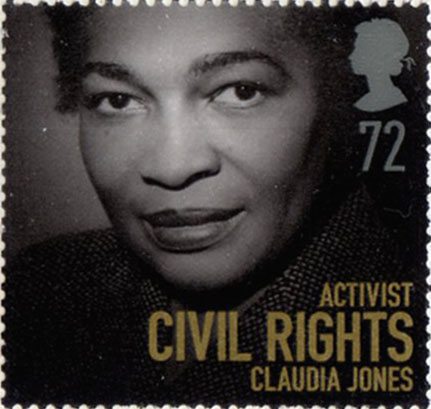 Expect to find in the house on the event day special guests who knew or worked with some of the highlighted women. So if you have a personal story or know of an inspirational British African woman, you are welcome to introduce her into the Zoom conversation. Click https://bit.ly/BriAfriWomen to book.