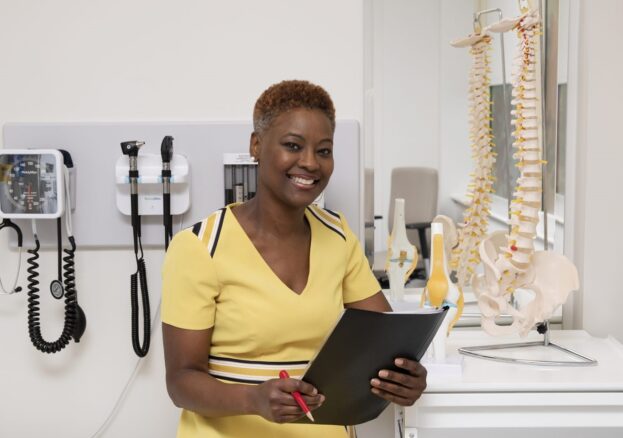 In celebration of Black History Month, we spotlight the phenomenal Dr. Samantha Tross, a renowned British consultant surgeon and a trailblazer in orthopaedic surgery. Born on 30 June 1968, in Georgetown, Guyana, Dr. Tross has achieved significant milestones, including becoming the first Black female orthopaedic surgeon in the UK in 2005 and earning consistent recognition in the Powerlist as one of Britain's most influential Black Britons.
Early Life and Foundations
Growing up as the second of four children to Sammy and Gwendolin Tross, Dr. Tross relocated to Britain at the age of 11. Completing her education at renowned institutions in Britain and showcasing her prowess in both academics and sports, she pursued medicine at University College London, where she decided to specialise in surgery.
A Pioneering Surgeon at Cromwell Hospital
Dr. Tross currently serves as a Consultant Orthopaedic Surgeon at Cromwell Hospital, specialising in hip and knee surgery. Here, she not only became the first woman in Europe to perform a Mako robotic hip surgery in 2018 but also works passionately to promote surgery as a career for women and under-represented minorities through various charities and organisations.
Advocacy and Impact
Dr. Tross's advocacy extends to her role as a Trustee of the British Association of Black Surgeons. This charity, of which she is a Founding Member, seeks to address and mitigate the differential attainment observed among Black surgeons compared to their counterparts. It aims to foster education, mentoring, equity, diversity, inclusion, and belonging within the surgical landscape.
In a conversation about her career, Dr. Tross shared her passion for orthopaedic surgery, citing the immediate and significant impact it can have on a patient's life as one of the aspects she loves the most about her specialty. She spoke of her joy in seeing her patients achieve their desired outcomes due to her surgical expertise, noting several proud moments, such as passing her exams, pioneering Mako Robotic Hip Surgery, and being selected by her colleagues to perform intricate procedures.
Inspiring the Next Generation
To young Black women aspiring to join the surgical field, Dr. Tross offers words of encouragement and empowerment, urging them to choose a career that aligns with their strengths, seek mentorship, build a strong support network, and bolster their self-confidence to overcome any negativity they might encounter. She emphasises that a career in surgery is not just attainable but wonderfully rewarding.
A Life Beyond the Operating Room
Beyond her significant medical endeavours, Dr. Tross is a lifelong learner with a passion for dancing, fine dining, and travel. She continually seeks new experiences and works diligently with organisations and charities to raise awareness about the availability and accessibility of surgical careers to women and under-represented minority groups.
As we commemorate Black History Month, the story of Dr. Samantha Tross stands out as a beacon of inspiration, resilience, and empowerment. Her enduring commitment to her profession, advocacy for diversity and inclusion in surgery, and her groundbreaking achievements in orthopaedic surgery continue to inspire countless individuals to break barriers and pursue their passions relentlessly.