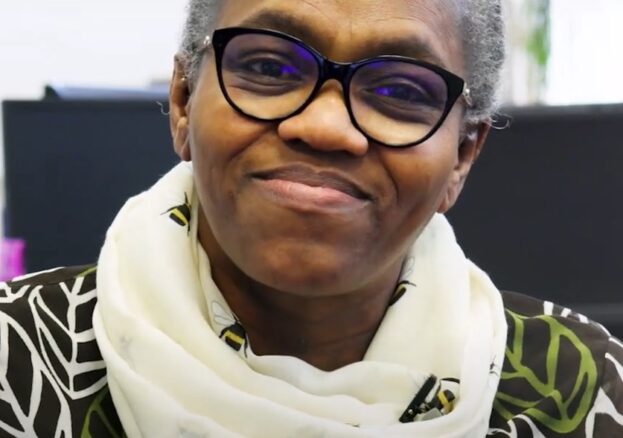 Black History Month is not merely a reflection on the past; it's also about shining a spotlight on those shaping the future. At the forefront of this change is Oyebanji (Banji) Adewumi MBE, the Director of Equality, Diversity & Inclusion at The University of Manchester. Drawing inspiration from her mother's pioneering spirit in nursing and spurred on by encounters with inequality in the professional realm, Banji's journey provides a unique lens through which we can understand the trials and triumphs of forging a truly inclusive academic community. As she recounts her experiences and aspirations, the deep-rooted and unyielding passion for a more equitable, diverse, and inclusive setting becomes abundantly clear.
As we embrace the theme "Saluting Our Sisters" this Black History Month, who stands out in your mind as someone you'd like to celebrate, and can you share the reason behind your choice?
You will pardon me as I would like to mention two names and they are both Nurses. The first person is my mum, Gladys Adefila, a retired Nurse, having served both in the United Kingdom and in Nigeria. I'd like to celebrate her for her pioneering spirit in the field of ophthalmic nursing. Secondly, I'd like to celebrate Dame Elizabeth Anyanwu for making a difference in Nursing and in the process, saving many lives.
Before we dive deeper, we'd love to hear more about you. Can you share a moment or experience from your personal journey that has been pivotal in shaping your passion and commitment to EDI?
This is not by design, however, again, I will be sharing two moments that feature as defining moments in my journey towards becoming a Diversity & Inclusion Practitioner.
The more I reflect on my childhood experiences, the more I have an appreciation of how some of these events have shaped me. Some of these experiences, especially those of discontent, have been the beginning of what Freire describes as critical consciousness.
The first I describe, which happened much later in life was when I, as a science graduate, applied to a government Department, and the response from the Human Resources department, included reference to my 'background' as a reason for not being considered for the post. I couldn't (at the time) understand why my background was a determining factor in a government departments recruitment and selection process. It was an eye-opener. The experience birthed in me a desire to make sure whatever organisation I eventually worked for, their recruitment and selection processes must be fair.
The second was pivotal and defining, as it strengthened my resolve to address inequality. I successfully applied for a role as a contract officer in a London Borough. The role involved, working with relevant agencies such as Age Concern, MIND and Health Centres, to encourage older residents of the Borough to claim the Pension Credits and welfare benefits that they were entitled to. Based on my experience of having worked in the Department of Works and Pensions for over 10 years, it was unusual, to have to convince people who were visibly in need, to put in a claim for welfare benefits, and more importantly, what was their entitlement. Inequality was real and rife, and, in my opinion, individual and collective agency was required to close the gap.
Following this experience, I successfully applied for my first paid Equality & Diversity role.
Your commitment to EDI is evident. Can you shed light on your journey to embed these principles into recruitment, ensuring that Black students and staff are not only represented but also genuinely valued?
Our Future, the University strategic plan sets our priorities.  At the heart of the plan, 'Our people, Our values' includes priorities for advancing equality, diversity, and inclusion.
The University of Manchester is committed to Equality, Diversity and Inclusion and we have a wide range of mechanisms though which we support this strategic priority, one of these being our Equality, Diversity and Inclusion (EDI) strategy. The EDI strategy takes a holistic and intersectional approach that extends beyond our statutory obligations, so that we become a truly inclusive place to work and study, that is characterised by equality, its valuing of diversity and where all have a sense of belonging.
Our three-year workplan has been organised to deliver on key EDI priorities that include building an Inclusive Environment and Culture, and ensuring Diversity and Equity Across Our Community
Our strategic objectives will ensure:
Fair, equitable, accessible and inclusive student admissions to the University by ensuring that policies, process and practice supports the delivery of our Student Outcomes and Access and Participation Plan.
Fair and equitable staff recruitment by ensuring accessible and inclusive policies, guidance and practice for all roles at all levels and in all areas, including for internal appointments and promotion, starting with a targeted strategic approach in year one of the strategy.
Retention of diverse students and staff with protected characteristics within an environment and culture that is responsive and flexible to their needs to achieve equitable opportunity and progression.
We recognise however, that we are not making fast enough progress and we must make a step change in our approach to ensure our University's future success.
Part of what has been completed in the first year of implementing our strategy is a review of our recruitment and selection process. We have an equality action plan underpinned by dedicated and committed staff and student champions and networks and we are starting to see a shift in the dial moving in the right direction with regards to representation and equitable outcomes for all.
Feedback truly shapes an institution's growth. How do you champion the voices of Black students and staff, ensuring their experiences influence university policies and programs?
The University of Manchester prides itself in having active and diverse Staff Network Groups, Peer Support Groups as well as Student Network Groups and Societies.  
Focus Groups for BAME staff and Students, Race and Religion, LGBTQ+, Disability and other areas such as Carers were set up as part of development and consultation on the 3-year EDI strategy.
Focus Groups (described above) were set up as part of our Race Equality Charter benchmarking self-assessment activity.
EDI Forum where both staff and student voice is heard.
Collaboration and joint projects between Students Union and EDI Directorate
Amplifying Staff and Student voice as part of Equality Impact Assessment process.
As you envision The University of Manchester's future, what aspirations do you hold for the growth of Black representation and an inclusive environment?
Our vision is to be recognised by staff, students, alumni and our partners, as an outstandingly inclusive organisation. Our students and staff will be representative of the diversity of global, regional and local talent. To achieve this ambition, amongst many other activities, the University will need to see a growth of Black representation in its Academic as well as senior Professional Services roles. We have started to see an increase in these areas with the added pride of being the University that had the first Black male Professor in the country, we have one of the approximately 60 Black Female Professors in the country and are a participating University, for the second year running, in the 100 Black Women Professor Now Programme.
Additional questions for your consideration
How is The University of Manchester proactively ensuring its recruitment practices champion diversity and accurately represent a blend of cultures, backgrounds, and experiences?
The University of Manchester positively promotes diversity and inclusion in all our job advertisements.
We also advertise roles on a number of job boards that specialise in the promotion of our vacancies to individuals from a range of diverse backgrounds.
We recently conducted a review of inclusive recruitment practices across the organisation which resulted in a thorough and robust short, medium, and long term action plan to continue to improve our inclusive recruitment practices across the University.
We recently re-contracted with third party recruitment agencies, and we ensured that there was a commitment to diversity and inclusion within our supply chain of recruitment partners as part of our tendering process.
In the world of academia, competition is fierce. What makes Manchester stand out, captivating the interest of potential top-tier students, faculty, and staff?
At the University of Manchester, we know that by working together we can achieve great things, from life-saving research to life-changing teaching and our commitment to social responsibility, and Equality, Diversity & Inclusion, everything we do has our people at its core. It is vital that we invest in, support and develop all of our colleagues. It is this ethos at the heart of our People & Organisational Development Strategy that sets us apart from our competitors and should captivate the interest of top-tier candidates wanting to apply for a new career opportunity.
The university's reputation is a beacon for many. How do you safeguard and project the true values and ethos of Manchester during the recruitment process?
We ensure that the Universities reputation is reflected in our values, we increasingly use our values as guiding principles in the way we do things at the University including the way in which we recruit which is not only based on technical ability but the values and behaviours an individual can bring to the organisation.