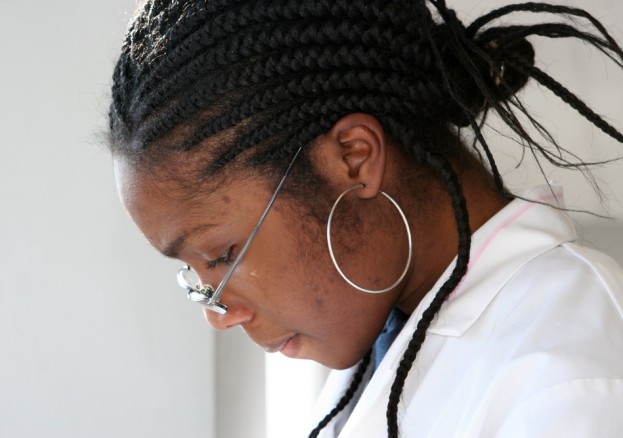 The healthcare science team play a vital role in the prevention, diagnosis and treatment of a huge number of medical conditions, as well as in rehabilitation. Along with doctors, nurses and other professions, healthcare science staff are essential members of today's healthcare team.
Whether it's helping patients with hearing problems, analysing tissue samples, or researching how results from the human genome project can be translated into new treatments, these jobs are done by people whose expertise helps to save lives and improve care for millions of NHS users.
A variety of skills are needed to work in the healthcare science team including great communication and interpersonal skills. Modernising Scientific Careers also means there are now a number of different training routes you can take to become part of the healthcare science team.
Rapid advances in technology mean this is now one of the most exciting, challenging and rewarding areas of the NHS.
There is a variety of different jobs within the healthcare science sector of the NHS and staff will work in three broad areas:
Life sciences
Physiological sciences
Clinical engineering and medical physics.
Life sciences
Life sciences is divided into four areas –
blood diagnostic services
infection sciences
tissue and cellular science
genetics.
In this area, healthcare science staff play a crucial role in helping to improve our understanding of illnesses and their treatment. You may also be responsible for developing new treatments for common medical problems, such as infertility or allergies.
The majority of your time will be spent in hospital laboratories (typically a clinical pathology laboratory where you will be analysing different samples from patients and giving doctors the information they need to make a first accurate diagnosis) -but you might also work on hospital wards or in the community. You will also work with doctors to choose the most appropriate treatment. Genetics is often based in specialist hospitals.
Physiological sciences
In the physiological sciences, staff examine patients directly, to look for any problems in the way that their body is working. You have direct interaction with patients – using the very latest techniques and equipment to identify any abnormalities and help to restore body functions – such as problems with the heart and lungs, gastro-intestinal tract, the brain and peripheral nervous system, or hearing.
Most scientists in this area work in hospitals, where you could be based in clinics, departments or operating theatres. However, you could work in a community setting, such as at a health centre or visiting patients in their own homes or at school. You'll work with patients of all ages, from newborn babies to the elderly.
Clinical engineering and medical physics
Staff working in clinical engineering and medical physics work closely with other NHS clinical teams, ensuring that the equipment that they are using (such as renal dialysis machines) is functioning safely and effectively. You'll also be responsible for developing new techniques and technology to measure what is happening in the body and to diagnose and treat disease. This might include ultrasound, radiation, magnetic resonance or clinical photography, for example. You might also develop techniques to design artificial limbs and body parts or improve facial reconstruction for those involved in accidents or born with disabilities.
Entry requirements
There are opportunites in healthcare science for everyone who has an interest in science, engineering or technology, regardless of whether you have GCSEs or NVQs, previous work experience, a science degree or a PhD.
Your point of entry into healthcare science will depend on the qualifications and any work experience you have.
New routes are being developed as a result of the Modernising Scientific Careers programme.
Learn as you earn as a trainee
You can start work as a trainee, assistant or support worker, where you can combine on-the-job training with study so that you can learn as you earn.
With GCSEs or an equivalent NVQ and/or previous work experience you will be eligible for a range of assistant jobs, working in laboratories, wards and outpatient departments with clinical staff and equipment.
Your training may involve attending day release or short residential courses. You will be paid while you work. The training programme can last from between a few months to two years, and you could go on to join a degree course.
Under Modernising Scientific Careers, there are also new routes for healthcare science assistants and healthcare science associates.
Cadet schemes involve a two-year training programme which will give you experience of the different jobs within healthcare science and help you decide which area you like best. You will paid while you learn and receive the support you need to gain the minimum qualifications required in your chosen area.
Undergraduate entry
With A levels, or an equivalent level 3 qualification you can apply for a trainee position in a healthcare science role. However, there will be fewer of these as new accredited three-year full-time BSc Healthcare Science degrees become established for entry through the NHS Practitioner Training Programme (PTP).
These combine academic study with practical experience in the NHS. You will not be paid while you are on a BSc healthcare science degree.
Graduate entry
Opportunities in healthcare science are open to graduates from many science disciplines. For example, the BSc healthcare science degrees enable graduates to then enter the NHS.
Alternatively, and if you have a first or upper second degree in a relevant subject, you are eligible to apply for the NHS Scientist Training Programme (STP) – a three-year programme of in depth training in a specialist area to work at the forefront of research and knowledge.
The STP includes practical experience and academic study leading to a specialist diploma or MSc. Trainees on the STP are salaried.
Postgraduate entry
The minimum requirement for entry to the STP is a relevant 2:1 degree but if you have relevant postgraduate qualifications, this could be advantageous.
Additionally, Higher Specialist Scientific Training at consultant level is being developed.
Skills required
As a healthcare scientist, you will use sophisticated equipment and techniques to improve people's health. At the same time, healthcare scientists are continually developing and testing more sophisticated technology and techniques. There is a huge variety of roles within healthcare science, some dealing with patients, and some are more laboratory based roles, each has its own specific skills required.
Here are some of the key skills you will need to pursue a career in healthcare science:
Interest in science and technology
Working as a healthcare scientist, you will need a good academic background and interest in scientific knowledge. It is also important for you to update and test your knowledge against experience.
Good communication
You will need good communication skills to be able to liaise with the healthcare team and also to advise and reassure patients.
Comfortable using complex equipment
Healthcare scientists often work with modern technology and equipment which can often be complex.
Meticulous attention to detail
You will need to be observant and have a good eye detail to produce highly accurate work even when under pressure.
Good interpersonal skills
You will often have direct contact with patients and you must respect their privacy, be sympathetic and have a friendly and professional attitude towards them.
Be able to work as part of a team
You'll be working as part of a team whose collective focus is the health and wellbeing of people. You need to know how all these different people work together and enjoy being part of a team.