What does Black History Month mean for you?
Black history month to me, means the celebration and recognition of the outstanding achievements of black, Asian, ethnic and minority people who have made a difference to the BAME community around the world dated back to the early stages of race wars and rights to today.
So when did you join the British Army, and what made you join?
I joined in July 2011. I joined the Army solely for a challenge and travel and to experience a different side of life than that of what I had been living.
What did your family think about you joining?
My family initially had mixed feelings about me joining the Army because they feared me being black and female would be a reason for me to be treated badly because of stories they had heard. Secondly, I am the fourth of five children, and being the last girl was another reason that it was difficult for my family to let go. However, since I have been in my family are very happy and proud of me.
What job do you currently do in the Army?
I am an HR Administrator. I work alongside the Staff and Personnel Support Branch in HQ 101 Logistic Brigade, where I assist with administration. This includes the preparation of inspection folders and travel booking. I am also a technical computer hub administrator.
What is the most important skill you have learnt?
The most important thing I have learnt in the Army is the importance of its Values and Standards. This has helped me to understand the importance of teamwork and comradeship and looking after one another.
What achievement are you most proud of?
I am most proud of being a Corporal at this stage of my career, and being one of two female representatives of the Army BAME network. I have worked very hard to achieve my rank as Corporal, as this is a really difficult rank to achieve, and I am very proud that my hard work has been recognised.
Some people may have a perception about how young black people are treated in the Army. What has your experience been?
I have never personally been victimized for the colour of my skin since I joined the British Army. The Army's Values and Standards and Leadership Code are strongly enforced and this has, from my understanding changed a lot of negatives in respect of racism.
Do you get to play sport in the Army if you have a desk job?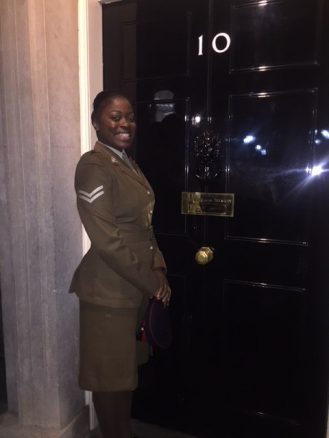 I am a keen athlete; I am a 100m sprinter for the Adjutant General Corp. I also throw the shot-put. I enjoy taking time off from work to train for these events as we normally train somewhere sunny. Last year training took place in Cyprus, which is always a bonus! I also play netball and have competed for Units that I have been attached to.
As a final thing, what piece of advice would you give the 18 year old you?
I would have said; join the Army sooner and believe in myself more. I was not as confident before I joined the Army, and I really appreciate the confidence that I have built up since I joined. I would also say; challenge yourself and never give up. I last thing I would say is that you never experience life if you do not give it a try. This is something I still say now!
To find out more about the Army and the opportunities available, visit https://www.army.mod.uk/