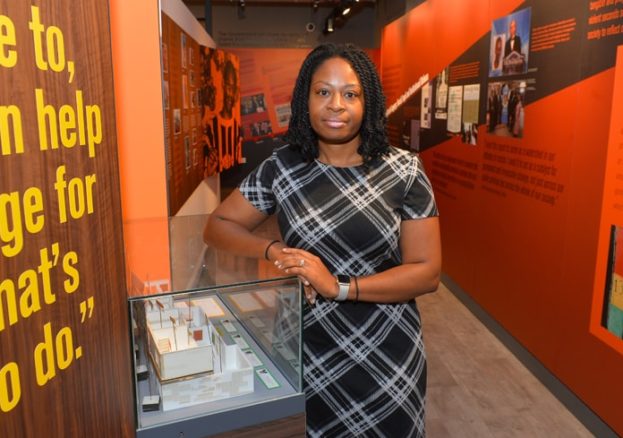 The opportunity to shape national and international conversations around tough, complex issues such as institutional racism and social justice was something she did not want to miss.
It's a journey that has taken her from the USA where she was part of the faculty at East Carolina University to Leicester, one of the most diverse cities in the UK.
DMU is home to the Stephen Lawrence Research Centre, which thanks to a gift by the university's Chancellor – and Stephen's mother – Baroness Lawrence, houses a collection of artefacts telling Stephen's extraordinary story and his legacy which changed the face of British history. It will also be the focus of research in areas which are currently under-researched and even neglected.
"It's a privilege and an honour to be the first director of this centre," said Professor Perry. "There are all sorts of exciting possibilities to think about how we can drive the conversations that need to be had and to think about how we can put Stephen Lawrence's legacy into action."
The centre will drive forward public engagement and research around four interdisciplinary themes: the history of West Indian communities in Britain; the practice and elimination of institutional racism; denials of justice and the psychology of racial violence.
Dr. Perry wants the centre to be "a voice speaking truth to power", ultimately working to diagnose and explain key issues to a wide-ranging audience in an effort to improve outcomes and opportunities for BAME communities through its research. A published historian, her work has focused on the lived experiences of Windrush-era migrants and the ways in which they challenged the racism they found in Britain during the 1950s and 60s.
She brings her historian's focus to bear discussing the deep-seated processes behind the lack of BAME representation in UK institutions, including its universities, where there are just 25 black female professors: "There's a role for us to play in highlighting these systems and barriers. Historical narratives allow us to pinpoint how some of the same outcomes occur over and over which can then prompt us to consider why that is the case and what we can do to unsettle these dynamics and move in a different direction."
Her aim is for the centre to have an international profile, collaborating with scholars around the world and crucially, sharing its findings outside of academia – with policy-makers, advocacy organisations, and most importantly, the communities they serve.
Dr. Perry is passionate about developing the careers of young academics and in particular encouraging more BAME students to consider careers in academia. She said: "I would not be in the academy without mentoring, without people telling me that this was an opportunity open to me. I'm hopeful that we can be a part of the way for others."
"The Stephen Lawrence Research Centre aims to become a hub of innovative thinking and impact-oriented research so to launch the work of the centre at DMU, a university which is so diverse and committed to fostering a sense of public good is so exciting."