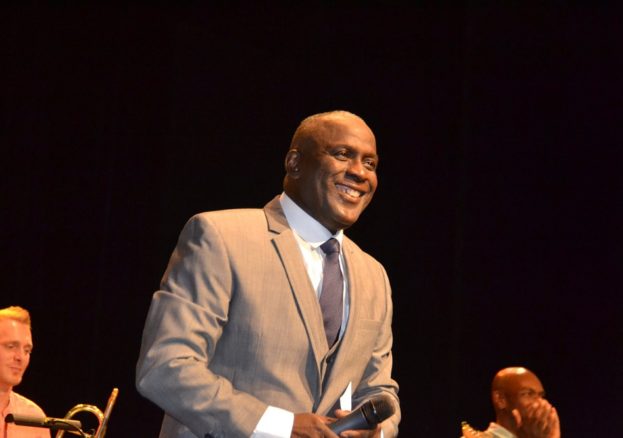 Owen Miller the Artistic Director and Producer of the show, was born and brought up in Handsworth Birmingham we caught up with him to find out more about the show and his life.
BHM: RUSH sounds like a really exciting show, can you tell us how it came about?
OM:  I first had the idea for a show about the history of Reggae music about 25 years ago but it really started to take shape four years ago but I still hadn't yet taken that leap of faith to produce it; however, I was on tour with The Jacksons last year and was talking to two of the brothers about my idea and they both encouraged me to take the next step. That encouragement really motivated me so I went ahead and put on a performance of the show last October and we are now looking forward to a series of tour dates this autumn and into 2020.
One of the key aims behind the show is to highlight the positive impact immigration can have on a wider culture and the show brings together musicians/artists from different ethnic backgrounds to celebrate Reggae music.
It may sound idealistic but we have a message to convey and that is we can all learn from each other, if we can just see past our differences and work together. Reggae Music is our vehicle to achieve this and the response we received at the two pilot performances last October was phenomenal and we want to share that with as many people as possible.
The story revolves around the Windrush Generation and the music they brought with them and how that went on to develop into Reggae. My parents came to England from the Clarendon Parish in Jamaica, along with thousands of others, in the hope of finding a better life in the Motherland; so it was really important to me on a personal level that the show tells this story. The way in which their generation has been treated recently has also made this incredibly important.
Overall our aim is to provide an evening of superb music coupled with facts and information. We want the audience to feel informed and uplifted in a 'shared experience' with the artists. Did you know that UNESCO has designated Reggae Music 'a global treasure'?
BHM: You mention being on tour with The Jacksons how did that come about?
OM: I began working in Tour Management and Managing Artists years ago. With the help of a cousin who played with Steel Pulse I started out by helping out backstage. I got on really well and was eventually offered the job of Tour Manager for Worlds Apart, a boy band which was based in France. Tour Management has taken me all over the world – Brazil and Cuba, the United States, Japan, Mexico, Australia and most of Europe. It sounds exciting but most of the time you saw the venue, your hotel room, and lived out of a suitcase so really it was just hard work.
I also co-managed Liberty X, Billy Crawford as well as managing the solo singer CIE and the hip hop band SKO (their track 'Just Another Day' still gets lots of hits YouTube –  check it out) and negotiated recording contracts with the likes of Sony and EMI records.
BHM: You were born and brought up in Handsworth, Birmingham. Did you have a happy childhood and what memories do you have of your parents?
OM: I have some very happy memories of my childhood despite having a father who frequently took the strap to me (I dare say I deserved it at times). My mother was my most important role model growing up and, although she was also very strict, she taught me many life lessons which I still value today; she had a saying for everything and one was 'Smile and Grind' and it has always been my motto; so much so that I named one of my companies S&G Touring.
BHM: I understand you started out as a professional footballer and were also a chef at one time.
OM: Yes, I played with the West Bromwich Albion youth team and went on to Wolverhampton Wanderers, Walsall FC X2 and Port Vale FC. Despite the guidance of my mother I was young and thought I knew it all. In the end too much partying, too much curried goat and dumpling and a foot injury together with a pretty short temper (I now have more patience and more perspective) all contributed to ending my career as a footballer. After football I trained to be a chef and ran a catering company for a few years after which I became a corporate pension and insurance advisor but then I discovered music.
BHM: As you prepare for the tour with this new show what have you found most difficult in getting it off the ground?
OM: Money, always money. It has been incredibly difficult to raise the finance for the tour. We have applied to the Arts Council for help and been turned down three times and have a fourth application pending. We are also chasing sponsorship so if there is anyone out there interested in supporting the show PLEASE get in touch or at least go and buy a ticket for one of our shows – we guarantee you a great night.
Tour dates for RUSH are included in the Listings section on the website.
Information about the Company and its aims and objectives see rushtheatrecompany.co.uk