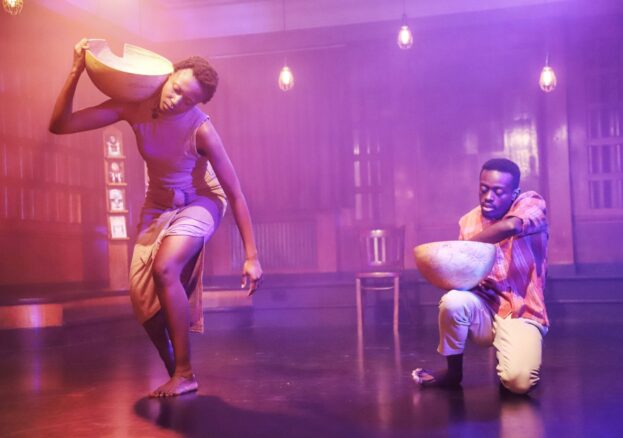 Written and directed by Sonny Nwachukwu, Saturn Returns delves into an astral projection reality, where the characters of Ada and Obi, take on forms of past, present, and future lives. Saturn Returns enwraps modern psychological issues of being trapped in repeating self-destructive patterns with a spiritual affirming circularity of rebirth along family lineage that is a feature of Igbo mythology. Through original music, spoken word and dance, Saturn Returns contrasts Christian notions of redemption through suffering, with mystical notions of escaping the constraining mortal realm through astral projection.
Writer and director Sonny Nwachukwu, writes, "Being one of the first companies to bring my work to Brixton House is really exhilarating. I am so thankful to be able to bring together an extraordinary team of cast and creatives that will nbring Saturn Return, a choreopoem to new audiences. Placing access at the core and being a part of this new venue's Housemates festival has allowed me to discover new possibilities." –
Sonny Nwachukwu
Born in South London, England to Nigerian-Igbo parents, Sonny grew up the oldest of four siblings. From an early age he loved to dance, but only pursued this career after he obtained his BSc (Hons) in Psychology. Sonny is a writer and director. Saturn Returns is his first ever completed stage show.
Saturn Returns by Gateway Arts
Brixton House
385 Coldharbour Lane
Brixton, London
SW9 8GL
Dates and Performance Times
Thu 21 April 2022 7:30pm
Fri 22 April 2022 7:30pm (Audio Described)
Sat 23 April 2022 7:30pm (+ Post show Q&A)
Sun 24 April 2022 7:30pm
Access
All performances will be live captioned.
There will also be audio described performance on Friday 22 April
All shows are relaxed performances.
Please note this performance is suitable for 16+.
Box Office
Tickets £10
Or £15 for Housemates Offer
https://brixtonhouse.co.uk/shows/saturn-returns/