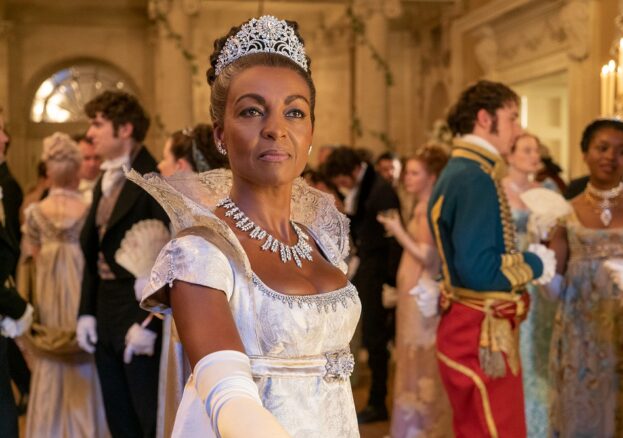 Adjoa Andoh, was born in Bristol, England.  She is a very successful actress, working in British film, television, stage, and radio. She is known on the UK stage for lead roles at the RSC, the National Theatre, the Royal Court Theatre, and the Almeida Theatre, however recently she became a global celebrity playing the role of Lady Danbury in Bridgeton the hit Netflix series.
How did you start your career as an actor?
I was in a black women's group in Bristol and when I left my law degree. Deb'bora John Wilson from the San Francisco mime group invited me to take classes with her. In April 1984, having auditioned for a play of hers about five black women called "Where do I go from here", I came up to London. The show was at the Drill Hall, Oval House Theatre and Acton Community Centre. I thought I'd be in London for two months, but I moved to Brixton and never left.
What reaction did you get when you told your parents you wanted to become an actor?
I made my dad cry. I left my law degree two years in. "Just finish it", he said. He's still waiting for me to finish it. My mum was excited.
What medium do you enjoy the best…live theatre, TV, or the movies?
They all have different demands and different pressures. As long as the material is good, I 'm happy working in any of them. On stage you have more control, and no one can edit your performance, but if you get in a mess, you can't ask for another take.
What so far have been your most satisfying role/s?
Glory, in 'Glory' for Temba Theatre Company in 1989.
Brenda Mazibuko, in 'Invictus' for Clint Eastwood's Malpaso Production Company.
Richard in 'Richard ll' at the Globe, our own production, the first all-woman of colour Shakespeare in the UK.
Was there a moment when you realized you could actually make a living from acting?
Yes. When I got my first equity contract in 1985 from Theatre Centre, Theatre Company.
Do you think the move towards diversity over the past few years in the industry has made a difference to you as a person of African heritage? 
I've been a professional actor for 37 years and I have been fortunate enough to have only been out of work for 6 months. The difference is in the freedom and power to have more impactful conversations about exclusion and inclusion. Not just on stage or in front of the camera, but in the rooms where decisions are made.  In the history that is taught and in the stories that are told. It's shameful that it took the filmed murder of a black man, to make institutions pay attention.
A series like Bridgerton has gone a long way to put back into people's understanding that there was an African presence at all levels of society in Britain at that time. Were you aware when filming that you would have such a major effect on people's perceptions? 
Yes, that was my hope. To have that history carried in such a popular show has enlarged the impact. Obviously, having the show aired on Christmas Day during lockdown, where people were viewing tv drama more intensely than ever boosted the impact, and of course viewing the show in the context of Black Lives Matter also gave it that extra edge.
Your role as Lady Danbury in Bridgerton created a lot of positive comments regarding diversity, so are you proud of helping break down the barriers for future black performers?
The world is built on networks. I feel it's my job as an actor of colour to expand the network and open the door as wide as possible for talented people who've been excluded on the grounds of race, gender, sexuality, or different ability, to get the opportunity to exercise their gifts.
Are there plans for Lady Danbury to return?
We are shooting season 2 at the moment. There will also be a spin off written by Shonda Rhymes about Queen Charlotte, Lady Danbury, and Lady Bridgerton.
Playing in the theatre has given you a great variety of roles. What is your favorited theatre?
One is the basement in The Drill Hall, where I did a Christmas musical set in the 2nd World War (written and directed by Nona Shepherd), called In the Bunker with the Ladies. My other favourite theatre is a 700-seater theatre in Brooklyn NY, B.A.M., where I played Portia in the RSC's African Julius Cesar.
What are your future plans for the next twelve months?
I am co-exec producing on Longboat Pictures screen adaptation of Vanessa Riley's novel, Island Queen. It's about Dorothy Kirwan Thomas who bought herself and her family out of slavery. She was a hugely successful businesswoman in the Caribbean at the beginning of the 19th century, and had an affair with Prince William, the future William 4th, Grandson of Queen Charlotte.
You are passionate about sustainability and social justice, so can you explain a bit about your role as a FairTrade Ambassador?
Fair-trade as an organisation supports trade and social justice in practical ways, that materially effects the life chances of powerless producers, by giving back to them a premium on the products they produce and acting as a collective bargainer for their goods on a global stage.
I'm interested in how we make change in a practical way, so with my family connections to Ghana, which is a great cocoa producer, Fairtrade was a natural choice. I'm also working in development on a documentary series about world heritage sites under threat from climate change.
What great Black activists have inspired you?
Audre Lorde, James Baldwin, Toni Cade Bambara, W. E. B. Du Bois, Ellen Kuzwayo, Wangari Maathai and Arundhati Roy, and of course Nelson Mandela.
Finally, what advice can you offer to young Black people considering working in showbusiness?
Do it if there is nothing else you love. It's a brutal business, but if it is your gift and your joy, chase it down.