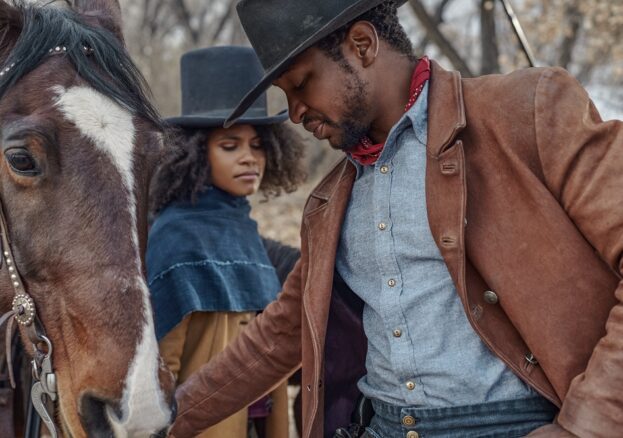 If you're looking for a film to enjoy, learn from and recommend to others then look no further than The Harder They Fall, making its international debut by headlining the BFI London Film Festival on Wednesday 6 October.
With a screenplay by Jeymes Samuel and Boaz Yakin, directed by Jeymes Samuel, this is a cowboy movie like no other, telling a story that's rarely told, the black experience in the era of the cowboy. A film in which black people are centre stage, in the story, in the action, and in the background, sharing the messages that black people have been passing down the generations for centuries.
It really is a black community thing, as you'll see in all the little details, in the way people dress, at the dinner table, in the repartee. It could be your family, a black family! So excuse me if I let out a cowboy-style "yippee" at this point!
The film is located during the era of expansion in the American West and the story is based on real-life characters, which for me, makes it even more of a must-see. It explores a black person's approach to social problems, one which many Caribbeans would articulate with the phrase "one day I'm gonna ketch you", or put another way, "I will pay you back for what you did to me." In that way, the film draws many parallels with the message that black communities around the world declared boldly during 2020, despite the strictures of Covid-19, so it's good to have a reminder and a renewed call to action. Black Lives have always and will always matter.
Jeymes Samuel and Boaz Yakin's well-crafted screenplay shows that some young people have long memories and are prepared to play the long game until they can right the actual or perceived wrongs that have impacted their lives. This is essentially the basis of the movie and you'll watch with bated breath as people rally around the central character hell-bent in his mission.
The story draws attention to the potential of people and the possibilities in situations, but it doesn't shy away from showing pain and hardship. We see the pain of gender relations and roles, with feisty, strong black women standing by the men in their community, ever willing and ever able to play their part in getting what's right for their people; and scenarios still familiar to the black community today, including those who think they won't fight for their rights and would rather accept the status quo, in order to keep their status intact.
For me, the most poignant moments came from parental love, and the guidance to the young hot-heads from the older and often wiser characters, those who have a coded language so white people and non-activists can't pre-empt and sabotage their actions. I see our desire to form long and loving relationships, and our desire to make changes in life we can't wait to be given to us by others. Sometimes, to get what's ours, we need to take it, even if it's accompanied by the pain of loss and leaving people and places behind. That really resonates with me as a member of the Windrush Generation.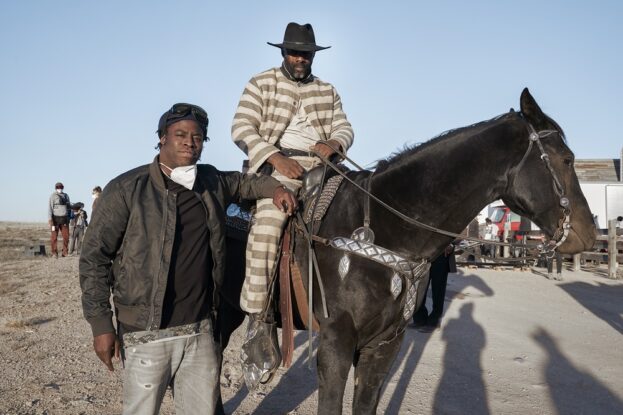 The film presents some harsh images, but we get some salve from the music that wraps the experience, music that gives us an insight into what moves Jeymes Samuel the man, and the musician. There are some great tracks. I was lucky enough to speak to Jeymes and he told me it took him 10 years to piece together the jigsaw that is The Harder They Fall. A jigsaw that included crafting the screenplay, finding the locations, casting the right people – people that would be believable in their roles, masters of their craft that could take centre stage in a narrative for black people, by black people, about black people. Jeymes has created a legacy that will empower film-lovers and filmmakers for generations.
Jeymes was also happy to admit that he's watched many, many Westerns, throughout both his childhood in London, and in his adult life. He loved the action and the storylines but rarely saw black people in them, especially in lead roles. The Harder They Fall has changed that in one fell swoop and the film will be talked about for years to come around the world.
It's fitting that The Harder They Fall gets its premiere during Black History Month and it's going to be the thing to watch for an experience that will uplift and excite – I can't praise it highly enough. It's well-written and beautifully shot with a great soundtrack, great characters ably portrayed by some of the best actors around, and an ending that's both inspiring and thought-provoking. It ticks all the boxes of what an award-winning film should be.
For me, The Harder They Fall is more than a film, it's a work of art with heart, created by a great team and showing us the measure of the man, Jeymes Samuel, a man who's innovative and determined.