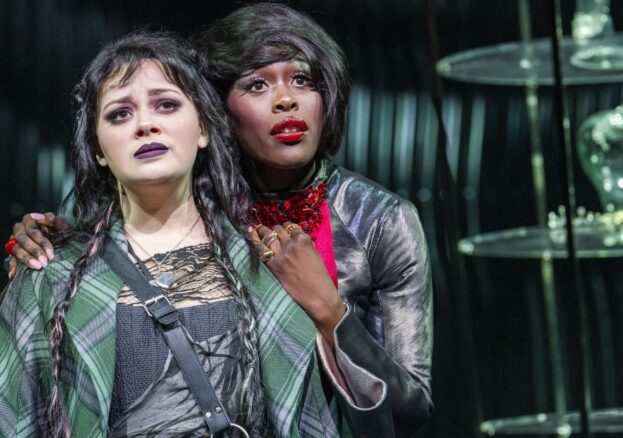 Her theatre credits are numerous and include: Guardiano in Women Beware Women and Katherina in Taming of The Shrew (Shakespeare's Globe), Ghost of Christmas Present in A Christmas Carol and Nancy Colberg in Green Living (Old Vic Theatre), Yomi in Chiaroscuro (Bush Theatre), Celia in Napoli, Brooklyn (Park Theatre), Fates in Hadestown and as self in Wrong Songs for Christmas (National Theatre).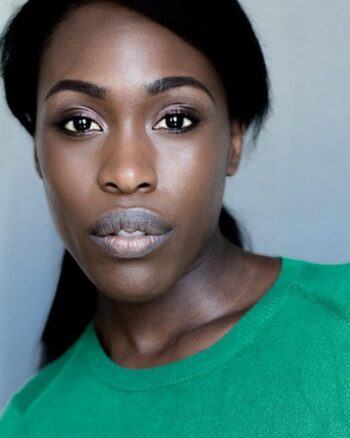 Ida Arnold in Brighton Rock (National Tour), Cruella De Vil in 101 Dalmatians (Birmingham Rep), Radio in Caroline, Or Change (Chichester Festival Theatre), Deadpan Delores in The Stripper (St. James Theatre), Francine/ Lena in Clybourne Park (National Tour), Anne in Egusi Soup (National Tour), Spirit in The Tempest (Bath Theatre Royal), Bacchae in The Bacchae (National Theatre Scotland) and Arion in Amphibians (Offstage Theatre). Gloria also created the role Josiana in The Grinning Man (Bristol Old Vic).
For the West End: Gloria was an original cast member of Avenue Q London (Noel Coward Theatre), Nala in The Lion King (Lyceum Theatre) and Rachel Marron alongside Heather Headley in the original London cast of The Bodyguard (Adelphi Theatre).
Gloria is also the founder and host of the podcast, 'Letter to A Black Girl' where she roundtables with some of the best of Britain's leading black women.
How did you start your career as an actor?
I was a member of the National Youth Music Theatre (NYMT) aged 15-17. I was performing as Sylvia in Howard Goodall and Charles Hart's original production of, The Dreaming in The Lindbury Studio, at the Royal Opera House.
There I was spotted by a casting director, who subsequently got in contact to ask me to audition for the London production of the Lion King.
I was still at school but ended up being cast as cover for Nala and singer ensemble and doing my A Levels at the same time!
What reaction did you get when you told your parents you wanted to become an actor?
They have always been unbelievably supportive of my endeavours in drama and music.
I guess for them, they wanted to make sure I had lots of other skills added to my arsenal, because of how difficult an industry it is to be a part of and maintain a career in.
Do you remember who gave you your first break?
Yes, it was the casting director Pippa Allion.
What medium do you enjoy the best…live theatre, TV, or the movies?
It's hard to say which I enjoy best but. I love theatre, especially having been deprived of it for the last year and a half. There is nothing better than a group of people in a space sharing stories. Laughing together, crying together, feeling anger, shock, excitement all the things!!!!
What so far have been your most satisfying role/s?
I think Katerina in Taming of The Shrew at The Globe is up there for me. She was a challenge, and I learnt a lot from her. But also, Grace… Grace Jones…of course… who wouldn't be thrilled to play someone so iconic!!
Was there a moment when you realized you could actually make a living from acting?
It has never been about that for me. I just love telling stories. The money comes along with it.
You played in the hit musical Hadestown at the National. Was it great fun to be in this fast-paced show, and how do you keep yourself in shape for eight shows a week?
Hadestown was a revelation. The cast, the creatives, the band…the audience, the Olivier are all family. So much fun and humbling to be part of creating a magical show like this. So human! I also had to learn to play the accordion for it. Not sure I'll ever pick one up again, but it was so much fun!
Keeping in shape for eight shows a week is much like for anything else, lots of rest, lots of gym and eating and drinking the right things.
You now play the role of the Godmother in Cinderella the Musical. Was it hard to have such a long delay the show because of Covid?
It was more disappointing than hard. Our gorgeous cast had worked so hard and was ready to go, so it was a shame to have to delay any further.
What was the reaction eventually of playing again before a live audience?
Going back and opening to a full house was euphoric! I'm not sure we all realised just how much we'd missed theatre, until then.
I was extremely emotional.
Do you think the move towards diversity over the past few years in the industry has made a difference especially for you as a person of African heritage?
I think I've been part of that move, slowly over the past 20 years. Of course, I benefit from it, but it's really beautiful to see younger/ new performers not have to experience some of the difficulties that perhaps some of us slightly older cats have been through.
There is still so much more to do…but we're on our way!
What advice would you give black performers starting out in musical theatre today?
Keep building your skills. Keep training/ going to class. Don't limit yourself to one style. Be curious.
Don't seek validation, you are already seen.
Concentrate on surpassing your own expectations of yourself!
Finally tell us how such a busy performer managed to start your podcast 'Letter to A Black Girl'?
Lockdown!!!! I wasn't so busy then. However, I will admit it's been harder to get the next season up but it's coming!! With a nice little twist