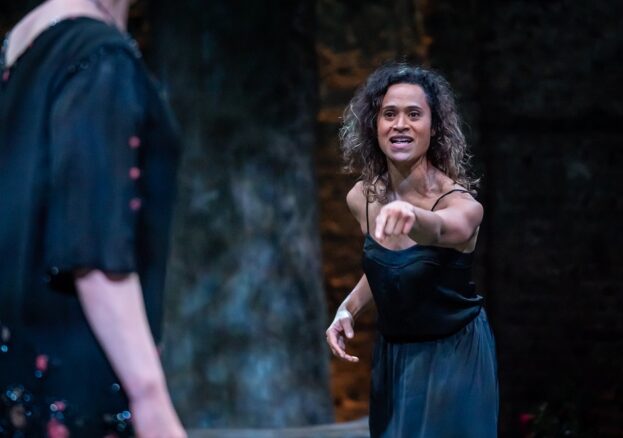 Angel is best known for starring as Gwen in all 65 episodes of the action adventure fantasy series "Merlin", which also starred John Hurt, Colin Morgan, and Emilia Fox. The show aired from 2008 to 2012, and in 2010 Angel was nominated for a golden nymph award for outstanding actress in a drama series at the Monte Carlo TV festival.
How did you get into the acting business?
My acting career began with a lucky break of sorts.
I was approaching the end of my final year of drama college in Edinburgh and had returned to London to take part in a mid-term work placement.
A friend from college called me and told me about a message on the college notice board from a casting director at the BBC. She said they were casting a role in a comedy series which fitted my description and that I should send in my CV asap because the deadline was in a few days' time.
I faxed my CV to the relevant parties and then waited to hear back. A week or so later I was called in for my first ever casting, and several months and a couple of auditions later I landed the role.
At the time I was agent-less and had zero experience of working professionally, so the sitcom's casting director kindly introduced me to an agent friend of hers who agreed to handle the contract for me as a favour.
I'm privileged to say that agent happened to be from one of the top agencies and has represented me ever since.
For me this was all literally the stuff of dreams. My drama school buddies and I had spent most of our final year fretting about whether we'd ever get an agent and/or an acting job.
But now, seemingly out of the blue, I had both. I felt and still feel extremely lucky to have had such a smooth journey into the industry.
What medium do you enjoy the best…live theatre, or TV?
For me they both have their unique merits, so I couldn't say I preferred one more than another.
There's more of an adrenal buzz with live theatre because once you're on stage there's no going back, mistakes or no mistakes.
Plus, you get a palpable response from the audience, which feels great as long as they're enjoying themselves!
But with TV you have the luxury of doing more takes if you're not happy with your performance. And personally, there's something I appreciate about the finality that comes with filming.
There is necessarily some repetition, in that you'll likely do several takes of each scene. But once everything in that scene has been captured it's time to move on to something new.
I also like the fact that when you're filming you often get to travel and experience new places. But my passion for acting has to do with the actors themselves.
I've worked with many wonderful people over the years. This is the part I love no matter the medium.
Being in a series for so long, were you ever concerned about being type cast?
Generally, actors are cast based on their look, age and character fitting the role. So, I think the reality is that most actors tend to play close to their own type most of the time.
I guess I wasn't concerned about being typecast after Merlin because it's what I'd observed to be the case for most people and therefore what I expected.
However, I would certainly welcome the challenge of playing a role which is totally against type.
What so far have been your most satisfying roles?
At the risk of sounding anodyne, they have all be satisfying in one way or another.
But if I was forced to single something out it might be the show I did at the Hampstead theatre which later transferred to the west end. It was called Good People and was written by David Lindsay Abaire.
It was a really funny show and the writing was just so wonderful, it was a joy to perform each night.
Did you always Know you wanted to act?
Yes. From the moment I understood that those people I'd watched in films and on the tele were in fact actors being paid to perform, and that this was a legitimate career choice, I knew it was what I wanted to do.
Do you think the move towards diversity over the past few years in the industry has made a difference, especially to you as a person of Afro-Caribbean heritage and for others?
I feel like it has made a difference for me personally. In the past I would regularly receive auditions for roles which, although they would specify "any race/ethnicity", I knew absolutely they would not go to a non-white actor. Now however that's changed.
I've also previously experienced tokenism in my career, but now I'm finding casting is often more balanced and representative of the diverse society we live in.
I'm not saying the battle has been won, but this is undoubtably a step in the right direction.
What Projects are you currently working on?
Earlier this year I shot a series for Apple TV+ called Suspicion, which stars Uma Thurman Noah Emmerich and Kunal Nayyar. I'm currently in Vienna shooting a Drama series called The Net. I imagine both will be shown sometime next year.
Looking back over your career to date, what advice can you give to other black artists keen to make it in the industry?
I can offer the following, which is what I'd say to anyone:
Start meditating- try the Z technique   developed by Emily Fletcher.
Don't let the toxic types get you down.