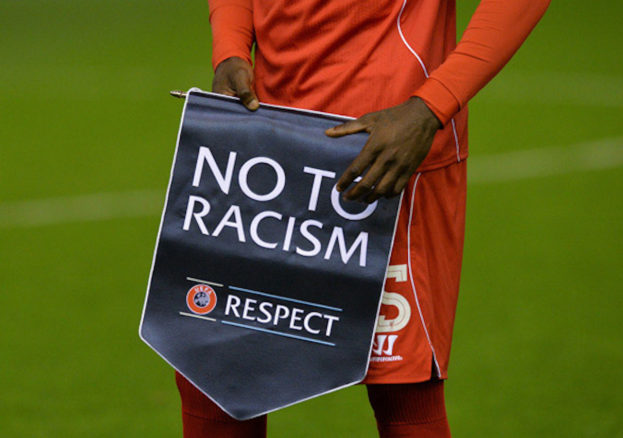 To be confronted with the option of having to walk away from a major league  at a time when political correctness is constantly in the  headlines is befuddling at best.
Are we really at a watershed moment?
According to Michael St Patrick Hewitt of the Metro "If it takes players walking off to tackle racism in football, so be it."  The Daily Mail "Let's not pretend that football is serious about tackling racism…" is certainly food for thought.
MAYA WING,  a young observer writes from her own perspective.
A game of two colours
The colours usually associated with football are the colours of the different teams which feature on their shirts, however skin colour also plays a large role in the game. Racism has sadly been a part of football for many years. In the 1970s young black footballers had to put up with members of the crowd making monkey noises at them and throwing bananas. During this time these black players felt that they had the most to prove as even their own fans hated them and did not want them playing for their team due to their skin colour. They had to prove that they were worthy of support through their footballing ability alone and that they did, which created the opportunities that young black footballers have today.
Despite the fact that young black footballers have many more opportunities today than in the 1970s, racism can still be found in the game and they are not always treated the same as their white counterparts. Since 1990 only one in four retired England international footballers have been black or from an ethnic minority background (BAME). Since 2000 the proportion of black players has risen however the number of them who go into managerial roles is not nearly as many. Only one in seven black footballers have gone into a managerial role. A third of footballers in our professional league are black but only 6% of them are senior management. The numbers of young black footballers are rising however they do not have sufficient older black players in high positions to look up to.
It is not only unequal opportunities that is a problem for black players in football. Many black players still have to put up with racism on the pitch. In November 2018 there was an 11% rise in reported discriminatory abuse at football matches compared with the previous season. Last December a man was arrested for throwing a banana skin at Pierre-Emerick Aubameyang during an Arsenal match against Tottenham Hotspur at the Emirates Stadium. This highlights that the racism which occurred during the 1970s is still present today. Other forms of football racism today include crowd chanting, songs and monkey chanting. There is also a coded language that goes on behind the scenes which differentiates black players from white players. Black players are often referred to as having 'a chip on their shoulder' or as having an 'attitude problem'. This language is used by both fans and managers. Many people argue that because racism is still present in society it thus cannot be separated from football which reflects society. Schools teach young people about inclusion in sports and often use football as a way of bringing children of all ethnicities together, however in the professional sphere a division exists. Race should not be an impediment to the careers of young black players and they should be allowed to focus on the game rather than having to worry about racist chants and comments from spectators.
Chris Powell, manager of Southend United, is one of the few black managers in football today. He has experienced racism during his career however he has never let that stop him from progressing and doing what he wants to do. He said: "Sadly I experienced racism at the beginning of my career in the mid 80s when there was a lot of hooliganism and racism. People used football to vent their anger and frustration against people who were different. There was many a time I went to an away ground and people shouted racist abuse and tried to put me off my game. It was a difficult time as racism was not a crime then. As black players we stuck together and it inspired us a lot of the time to play better." Powell believes that there are now many more opportunities for black players than there were in the past and they are definitely being given a chance today. He said that: "The reason why racism still exists in football today is because it is in society and it has been heightened by what is happening with Brexit, and so it filters its way into football. Football has been brilliant over the years and has recognised it has to do something about it and so initiatives such as Kick it Out and Give Racism the Red Card have been developed." Powell wants to encourage black players to break the glass ceiling and go into management as the only way to overcome the problem is by black players putting themselves out there and proving that they can do the job as well as others. "Racism is not just a football problem but it is a societal problem and so it needs to be resolved in society before it can be taken out of football," Powell said. He recognises that he has a big role to play in the way that he conducts himself, talks and behaves as he knows that some people will look at that and use it, hopefully positively. "I recognise that I am trying to make a change and I hope that in turn that will make others feel comfortable in trying to become a coach and a manager at the best level they can," Powell said.
Michael Klass, a 19-year-old player at Southend United, finds that having a black manager is beneficial to him. "Having a black manager gives me a sense of security and a feeling of being welcome but at the end of the day he can only pick players based on their ability, regardless of their skin colour," Klass said. Klass has been aware of racism in football from a young age as when he was twelve and playing for Fulham Academy he went to a tournament in Holland where fans called the black players monkeys. "As I've got older I've noticed that there are more black players in my team whereas before my team would have mostly been made up of white players," Klass said. He believes that now there are a lot of black players at the top of the game to look up to which gives him confidence as a black player and makes him think that there are chances for him to make it. Racism in football does not stop him from progressing and he believes that if he is good enough he can make it. He does believe, however, that racism could be reflected better by the media: "I feel that they could make a bigger deal about it. Sometimes it gets pushed under the carpet and if there was more of a fuss it could possibly reduce the amount of racism in the game."
Today there are many initiatives to try and prevent racism from being a part of football. Kick It Out was established as a campaign with the brand name 'Let's Kick Racism Out of Football' in 1993 and as an organisation in 1997. They challenge discrimination and encourage inclusion in football. Show Racism the Red Card is another organisation which targets racism in football. They provide educational workshops and training sessions with the purpose of tackling racism in both football and society.
Football has come a long way since the "70s but perhaps fans now need to be educated too in order to fully realise the only goal is to win and enjoy the sport, irrespective of colour.