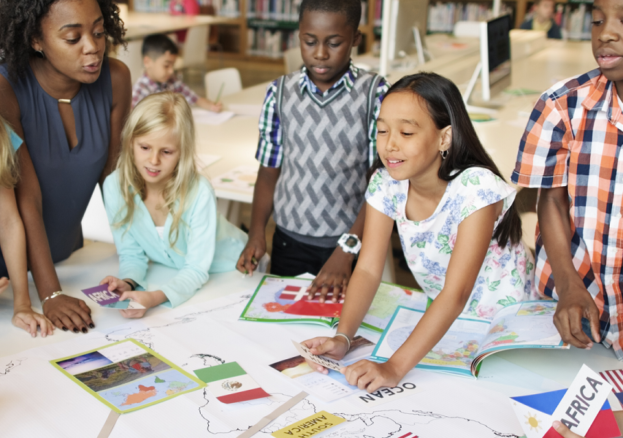 A brand new pack for schools has been launched to help schools around the UK celebrate the continued achievements and contributions of black people of African descent to the UK and around the world – all year round, across all of the curriculum, while supporting teachers and young people to talk about and understand the issues of race and equality in a post-2020 world.
The Black History Month UK School Pack 2021 has been created by Black History Month UK in partnership with Museumand, The National Caribbean Heritage Museum and Bishop Grosseteste University in Lincoln.
The pack has been produced for secondary schools and includes lessons plans and teachers notes for Key Stage (KS) 3, 4 and 5.
All the materials included in the pack are firmly anchored in the requirements of the National Curriculum and have been created by Black History Month UK, Museumand, The National Caribbean Heritage Museum and Bishop Grosseteste University – supported by 30 Secondary PGCE trainee teachers studying at Bishop Grosseteste University.
The pack includes 14 collections of new teaching materials covering the whole curriculum including Black History in maths, science, history, English, Modern Foreign Languages (French and Spanish), art, literature, drama, music, RE, Citizenship and PSHE, as well as key topics such as World War 1 and II and the criminal justice system.
Ian Thomas  from Black History Month UK explained:  Our intention is to provide schools with a set of source materials that they can customise to suit their precise requirements – in a way that brings black history to life for young people in different year groups, across the curriculum.
Reflecting the diversity of schools across the country, the pack uses a range of lesson plan formats to mirror this difference. We did this to make sure the teaching materials included in the pack are ready-to-go and will feel instantly familiar to teachers and young people.
It is so important that teachers allow young people to speak and ask questions, no matter if they make teachers feel uncomfortable. The pack also offers ways that teachers can deal with difficult or uncomfortable conversations and situations that may arise. It includes a glossary of words that are best used to engage and not cause offence to pupils, learning supporters in the classroom, and teachers, words that won't alienate but help foster and champion black young people's identity and self-worth, things which schools should do.
Since 2020 new vocabulary has been introduced into English language society which young people, parents and other adults may need help with understanding. We have created a list of definitions that teachers can use to explain words and terms such as micro-aggression to young people and help answer the difficult questions they are asked.
Black History Month 2021 – Proud To Be…
The school pack also contains a range of resources to help schools celebrate Black History Month 2021 in October – including worksheets for young people, assembly notes for Head Teachers, videos, posters, roller banner artwork and screensavers for use throughout the school.
The theme of Black History Month 2021 is 'Proud To Be…' – Lynda-Louise Burrell from Black History Month UK explained:
"Proud To Be… is our new campaign for Black History Month 2021 focusing around Black Lives Matter. We are encouraging all Black and Brown people, especially young people, to be proud of their heritage and who they are, and to choose who and what they share about what they are proud to be. For example, Proud To Be Black, Proud To Be Brown, Proud To Be Black and LGBTQ+, Proud To Be Me.
"The pack will include Proud To Be… sheets for students to fill in and share what they are proud of."
Catherine Ross, Founder Director of Museumand, The National Caribbean Heritage Museum and Editor, Black History Month UK magazine said:   "I am truly looking forward to sending the packs out to schools across the country as I know they will make a positive difference to young people, their families and communities. The packs are creative, innovative and of exceptional quality and are a tribute to the hard work and dedication of everyone involved. I would like to thank Dr Sheine Peart and her team of colleagues and trainee teachers at Bishop Grosseteste University for being the driving force behind the packs. They have worked tirelessly to create a great range of teaching materials."
Dr Sheine Peart, Reader in Access, Equality and Inclusion from Bishop Grosseteste University said:   "Working with Black History Month UK and Museumand, The National Caribbean Heritage Museum has been a fantastic opportunity for trainee teachers on our PGCE Secondary course. After taking part in the project our trainee teachers said they feel more prepared to teach a diverse range of students, and have a better awareness of the topics and issues that impact negatively on the lived experiences of their students. Our trainee teachers, and how to incorporate the histories of people of colour into the curriculum, and are keen to continue developing their skills and knowledge. It is wonderful that the process of producing the pack has been a learning vehicle for our students, and now it will become an invaluable learning aid for teachers and young people across the UK. It's a real win-win for everyone involved."
The schools packs will be available to schools nationwide by Black History Month in September