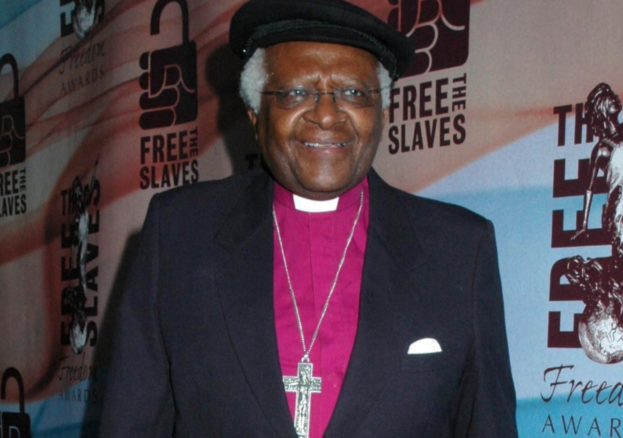 He did not hesitate to use humour and anger to express his values and outrage.
Black History Month looks back  are some of his most famous quotes:
On apartheid in South Africa
"When you saw so many who seemed to be supporting the racist policies of the former government in South Africa, and you say, 'How are we going to change?'
"Well, I always say to people, 'Remember, the sea is actually made up of drops of water.
"What you do, where you are, is of significance.
"It may just be that your act of courage encourages someone else who was slightly more apprehensive'."
 On forgiveness
"The truth shocks."
"The truth traumatises."
"It's not easy, it's never easy, to forgive."
"It's never easy to be reconciled."
"It's not cheap."
"It cost God the death of his son."
His sense of humour
In a tribute to him, Sir Richard Branson said: "He had no airs and graces, and always made everyone laugh.
'I don't know why, but some people accuse me of name-dropping,' he told me once.
'I just happened to have lunch with the Queen at Buckingham Palace the other day and she said, 'Arch, you are such a name-dropper!'"
On being given the chance to present an award at the British Comedy Awards in 1995: "I'm glad to be here, to do this, as reparation for the cricket."
Supporting apartheid
"For goodness' sake, will they hear, will white people hear what we are trying to say? Please, all we are asking you to do is to recognize that we are humans, too. When you scratch us, we bleed? When you tickle us, we laugh?" (Statement urging sanctions against South Africa, 1985)
"Your President is the pits as far as blacks are concerned. He sits there like the great, big white chief of old can tell us black people that we don't know what is good for us. The white man knows." (Interview with US press, reacting to Ronald Reagan's vetoing of economic sanctions apartheid government, 1986)
"At home in South Africa I have sometimes said in big meetings where you have black and white together: 'Raise your hands!' Then I've said, 'Move your hands,' and I've said, 'Look at your hands — different colours representing different people. You are the rainbow people of God'." (His book "The Rainbow People of God," 1994)
Vocal on Gay rights
"I would not worship a God who is homophobic and that is how deeply I feel about this. I would refuse to go to a homophobic heaven. No, I would say sorry, I mean I would much rather go to the other place. I am as passionate about this campaign as I ever was about apartheid." (Speech at a UN's gay rights campaign, 2013).
On his friend the Dalai Lama
"I give great thanks to God that he has created a Dalai Lama. Do you really think, as some have argued, that God will be saying: 'You know, that guy, the Dalai Lama, is not bad. What a pity he's not a Christian'? I don't think that is the case, because, you see, God is not a Christian." (Speech at Dalai Lama's birthday, June 2, 2006)
"Our government… says it will not support Tibetans who are being oppressed viciously by the Chinese… I am warning you; I am warning you, that we will pray as we prayed for the downfall of the apartheid government, we will pray for the downfall of a government that misrepresents us." (On South Africa refusing the Dalai Lama a visa, 2011)
"I am ashamed to call this lickspittle bunch my government." (After South Africa again denied the Dalai Lama a visa, 2014).
Strong words
"He has, I mean, mutated into something that is quite unbelievable. He has really turned into a kind of Frankenstein for his people." (Commenting about Robert Mugabe to Australia's ABC TV)
During an interview with ITV shortly after his retirement, Tutu reflected on his career and time spent on the liberation movement in South Africa. He said: "Enemies are always friends waiting to be made."
On assisted dying
In 2016, Tutu did an interview with the Religious Alliance for Dignity in Dying.
In it, he said: "I have been fortunate enough to have spent my life working for dignity for the living.
"Now I wish to help give people dignity in dying."
"I believe that dying people should be shown compassion at the end of their life."
"They should have the right to choose the manner and timing of their death."
"Instead, many are forced to endure terrible pain and suffering against their wishes."
"I hope that when the time comes, I am treated with compassion and allowed to have the death that I want."
"People who are terminally ill should have the option of dignified and compassionate assisted dying, alongside the wonderful palliative care that already exists."
"I pray that politicians, lawmakers and religious leaders have the courage to support the choices terminally ill citizens make in departing Mother Earth with dignity and love."
He will be hard to replace. RIP.