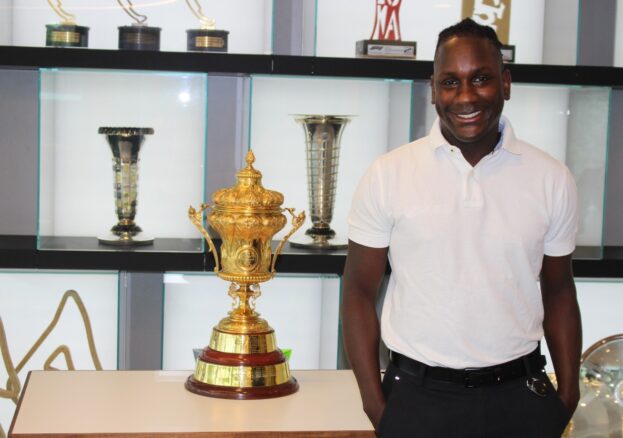 "I'm proud to be an engineer who is recognised for what I have done for the community. I have progressed in an industry which can be challenging to enter, by maintaining the highest standards. I want to be someone the next generation can aspire to be and have a successful career. I am proud of my family heritage and values that I learned growing up, which have made me the person I am today"
What does your role?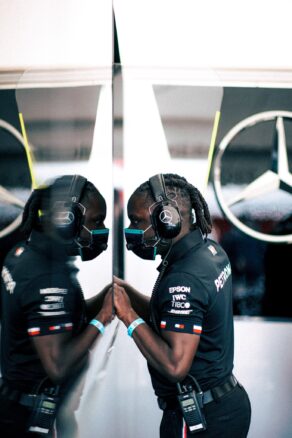 I am an Electronics Support Engineer in the Heritage Department at the Mercedes-AMG Petronas Formula One Team with a combined 12-year experience in automotive and motorsport. I am responsible for maintaining all electronics and car systems on a wide range of historic Mercedes Formula One cars. We cycle through firing up each chassis over a 12-month period and my role includes monitoring sensors and communicating directly to the mechanics to get the car up and running for a track session.
I've supported the team's young driver programme at various race circuits and attend demo events, as well as assisting the race team with the chassis, working on a range of tasks from electronics to the actual build of the race cars.
When trackside on event, I analyse live data from the chassis, control and hydraulic systems, reporting back to the race engineer, performance and control engineers, whom we all work as a team.
What does Proud to Be mean to you and your impact on the community?
I hope that I have impacted the community by sharing my story of how I progressed in an industry which can be challenging to enter. I have taken time to visit primary schools and secondary schools where I have been able to talk to students as well as answering any questions they have. I hope that I can inspire them to achieve their dreams, regardless of background, ethnicity or gender. I have also spoken at universities, colleges and have met Members of Parliament at events which have enabled me to discuss engineering, my career path and share my thoughts on how we can engage the younger generation and spark the interest for more Black and minority ethnic young people considering a career in the motorsport industry.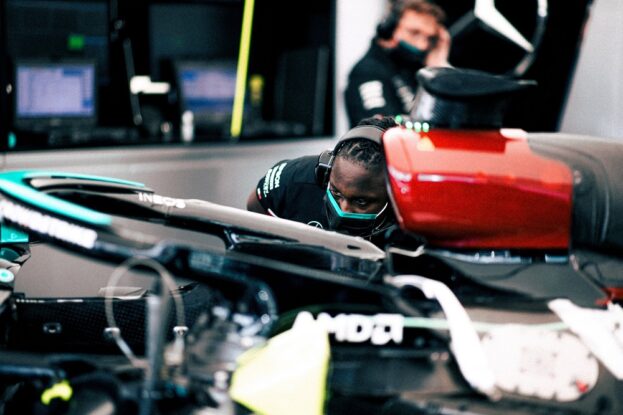 I was always fascinated with how cars worked and the mechanics behind them, and I knew engineering was an industry I wanted to work in after attending the British Motor Show at the London Excel Centre with a family member. However, from a young age I struggled with confidence. I always felt there was pressure for me to succeed in life, being the youngest child in the family.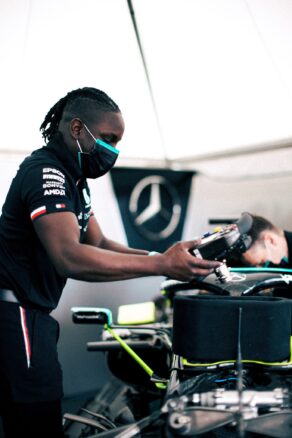 I went to school after college and, although I didn't initially get the grades required to do an engineering degree, I continued to work hard and found an alternative route to achieve my ambitions. The university I applied for had a foundation course which allowed me to progress onto the BEng degree and. I worked hard, thinking logically, and visualising how I would answer questions in exam papers and coursework.
Your advice to the young black community?
My advice would be to believe in yourself and make your dreams reality, even if it takes time to get there. Set your foundations early. If you enjoy science, then focus on that area at GCSE level, then onwards to A-Levels and University. If studying is not your thing then there are several apprenticeships that provide hands-on experience post GCSE and college which provide an excellent route into industry. 
Make sure you look out for and apply to Industrial Placement schemes in your desired field. I completed over 50 applications to various engineering companies with several rejections. This can be hard but you need to remain determined and never give up on your preferred career. My first job in engineering after graduating was working for an automotive company free of charge over a two- week period, conducting vehicle fault analysis. With so many students now going to university, employees are looking for students with experience and any experience you can obtain early on is beneficial.
Most minorities tend to live in urban areas whilst most Formula One teams based in rural areas of the country, with only one team relatively close to London. Relocating can be a difficult adjustment, whether it is for a short work experience or a year-long placement, but it is well worth taking the step out of your comfort zone for the experience you will gain.
I will be mentoring an AFBE student for the next six months which I am really looking forward to. Having access to people in your chosen field or industry can be such a benefit to achieving your dreams and I am looking forward to the opportunity to help a young person who is the position I once was of starting out on the path to achieving their dream job.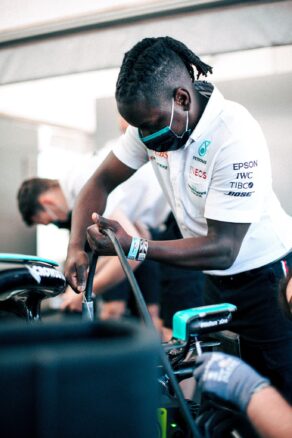 Tell us more about how has it been to be involved in the Hamilton Commission?
It was an honour to be a part of the Hamilton Commission report and the journey is one I won't forget. The process began from my mentorship with AFBE-UK and I was approached by the board of commissioners, Dr Nike Folayan, from there I was interviewed by Royal Academy of Engineering.
The process lasted around 10 months in which over two thousand people were interviewed with information collected by the Royal Academy of Engineering. Over several conference calls, I shared how I grew up and shared my experiences within education and the challenges I had faced. The report was focused on understanding young black peoples' interest in engineering and motorsport, attainment, and progression in STEM subjects.
The case studies really brought the report to life some of the issues we face within society. I was honoured to have featured on the smart report video as it's important to see the lives behind various sectors. The recommendations are something I hope all companies are beginning to address and will provide more opportunities for talent from all backgrounds.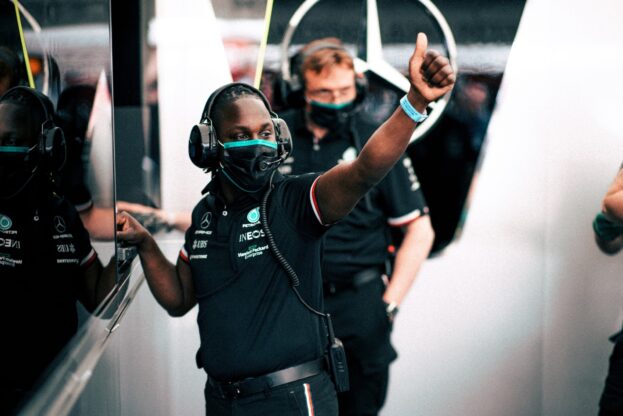 What are your next steps and targets?
I support number of internal initiatives such as the Accelerate 25 program which is a five-year programme to increase the Team's diversity based on talent, skill and opportunity.
Part of this is a new partnership formed between Mercedes AMG Petronas F1 Team and Mulberry Schools Trust, with the aim to give young people access to inspirational role models, imaginative teaching and extra-curricular experiences to help develop their passion for STEM subjects and encourage them to continue these subjects in higher education.
The partnership with STEMettes, I've already assisted in CV writing to talented females, they're a UK social enterprise – who work to inspire the next generation of girls, young women and nonbinary young people into STEM fields through programmes, events and content platforms.
External initiatives include volunteering with the Blair Project, a social enterprise based in Manchester which taps into the climate change activism of urban youth. I also provide career talks to students and support Manchester College through their scholarship program which is a path-way into the industry as they primary focus on EV karts in urban areas.
It's taken a lot of self-belief to have the opportunity to be working within the F1 industry and I've set out my next steps in my career to achieve being trackside – full time or rotation.  Another area I see my career moving forward is to focused on is leading the heritage department in terms of their systems and electronics area as I can see us expanding, having the chance to lead a team of people in the future would be a honour in which I would like to create opportunities for all based on hard work, talent and skillset.
I believe it shows what someone from a less fortunate background, as I think it's now even harder growing up from a low-income background in 2021.