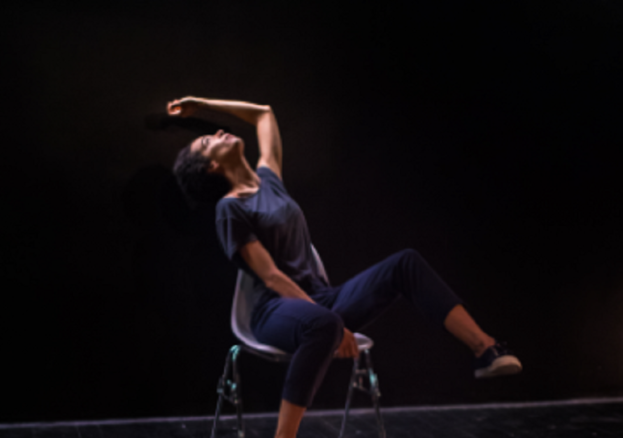 Laila Diallo: In This Moment
I sat still until the stillness filled with movement.
I went in search of a furious dance.
I tried to weave past and future in the moment.
Canadian-born, Bristol-based dance maker Laila Diallo presents In This Moment. She draws on and transforms materials from Countless Yellow Chairs, a recent work created and performed with composer Jules Maxwell and many of the yellow chairs that once belonged in the Bristol Old Vic Studio Theatre. This solo speaks of change, of remembering and forgetting, and of our experience of time passing.
Bandi Meszerics: Ways of the Blue
"Suppose I were to begin by saying that I had fallen in love with a color… as if falling under a spell, a spell I fought to stay under and get out from under, in turns."
I came to think that blue is a very important colour to our time. Blue has a history and a story to tell, which I am – we are – a part of. Through the conscious use of and the subconscious invitation of dance, music and poetry, I attempt to tell the audience about blue in this private language that's been growing between me and the colour, bridging the universal messages from the depth of the personal, and in that depth I find a trust that is beyond hope, a soft, mundane importance that might just be felt in the right time.
Just let me let this blue talk.
Tom Thom
Tom Thom have been doing things together for a while. Walking. Dancing. Holding. Hugging. They began spaced far apart from each other and spend a long time trying to find each other. They are doing this and they will continue to do this.
lailadiallo.com
We are extremely excited by this triple bill… Laila Diallo is one of the foremost dance artists in Bristol and someone who we admire greatly. Bandi Meszericks is a Berlin based dancer / choreographer who moves and sings in an exceptionally rare and beautiful way. And as performance art come magic duo, Tom and Thom have been trying to find each other for some time – we're thrilled to have finally found a way to bring them to Bristol!
Impermanence