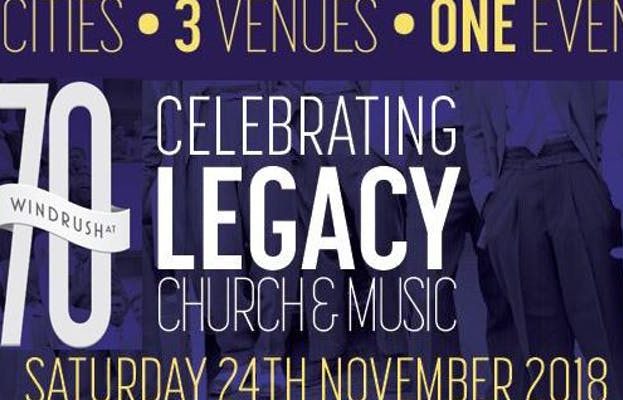 An exciting evening of celebration with the Windrush Generations as they gather across the cities to share their musical journey. The story of the groundswell of music, faith and power which has burst through the barriers of ignorance and prejudice impacting the very heart of British society.
A multi-media presentation: starting at the very beginning, from the churches all the way to the palace – the sound of British Gospel: the people, the music, the songs!
Windrush @70 Celebrating Church & Music taking place in 3 Cities > 3 Venues > ONE EVENT on Saturday 24th November 2018.
The details for the venues are:
Manchester – COGOP Moss Side, 300 Moss Lane East M14 4SS
Birmingham – NTCG Handsworth, 240-244 Lozells Road B19 1NP
London – Ruach City Church Brixton, 122 Brixton Hill SW2 1RS
A mix of live performances, special speeches, film clips in a Concert styled variety night
Highlighting Heroes and Sheroes of the first Windrush Generation – those who arrived in 1940s – mid 1970s.
Featuring an array of Special Guest performers, dignitaries, celebrities
Original Songs from Songwriters and Composers of various Churches / Fellowships
Roll Call of Honour and Presentations to Posthumous and Living Legends
Streamed LIVE from each venue to a global online audience