Betty Davis changed the landscape for female artists in America. An aspiring songwriter from a small steel town, Betty arrived on the 70's music scene to break boundaries for women of colour with her daring personality, iconic fashion and unforgettable funk music. A pioneer of feminism and Black Power, she became the first black female artist to perform, write and manage herself. Then suddenly – she vanished.
Creatively blending documentary and animation, this movie traces the path of Betty's life, how she grew from humble upbringings to become a fully self-realised superstar.
Director Phil Cox will join us after this special preview screening to discuss Betty Davis and her legacy.
More Camden Listings MORE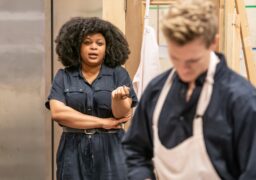 Camden
Monday 16 October - Saturday 2 December 2023
It's kind of a ritual, we speak the truth. Then, let go and cook. In the bustling kitchen…