One of the most renowned careers in hip-hop history, it is with great joy that we announce a rare DJ set by Pete Rock this December.
Deriving from a period that many consider to be the 'golden-era' of hip-hop, Pete Rock is one of the true godfathers of the genre. His unique approach to fusing Jazz elements with the east-coast hip-hop sound, coupled with his unprecedented sampling ability has lead to him becoming one of the most respected producers in the game.
Known by many for his huge contribution to Nas' 'Illmatic', referred to by many as one of the greatest hip-hop albums of all time; Pete Rock has also worked with the likes of Rakim, Wu Tang Clan, Public Enemy, Talib Kweli and Busta Rhymes to name a few.
With a career spanning back to the early '90s, Rock's catalogue of productions has garnered him the type of notoriety that very few achieve. Add to that his impeccable skills behind the decks and you have a showcase from a true hip hop master.
More Camden Listings MORE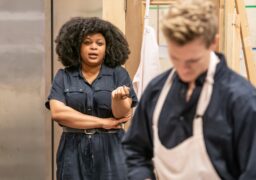 Camden
Monday 16 October - Saturday 2 December 2023
It's kind of a ritual, we speak the truth. Then, let go and cook. In the bustling kitchen…