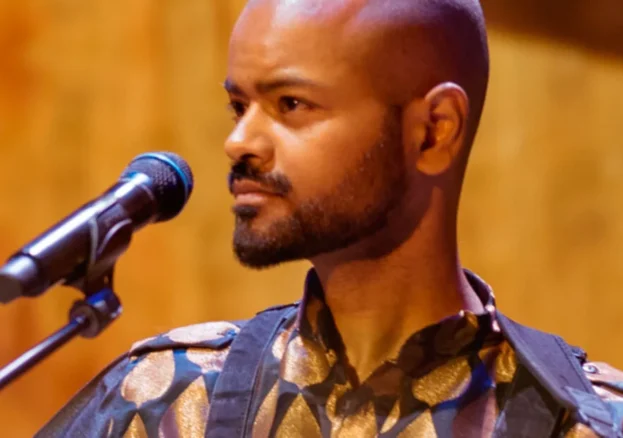 Soumik Datta is an award-winning musician, producer and television presenter. He plays the 19-stringed sarod and combines Indian music with spoken word, arts activism and electronica.
Soumik has collaborated with Beyonce, Jay-Z, Bill Bailey, Nitin Sawhney, Joss Stone, Anoushka Shankar, Arijit Singh, Akram Khan and Shankar Mahadevan to name a few.
As part of a national tour, Soumik brings his company's full-length production 'Hope Notes' to create a tapestry of refugee stories, electric sarod, strings and animation – a sensory feast to challenge social injustice through an uplifting, musical lens.
Hope Notes was made in collaboration with refugees from Syria, Afghanistan, Kenya, Bangladesh, Yemen, Cameroon and Uganda and is a powerful tribute to the displaced communities of the world.
Previous highlights include winning the Arts Council England Elevate Award and British Council's COP26 x Climate commission. An Ambassador of Earth Day Network, Soumik's work addresses urgent social and environmental issues through songs, music and film. He has presented television shows 'Rhythms of India' (BBC4) and 'Tuning 2 You' (Channel 4) and produced several radio shows for BBC Radio 3.