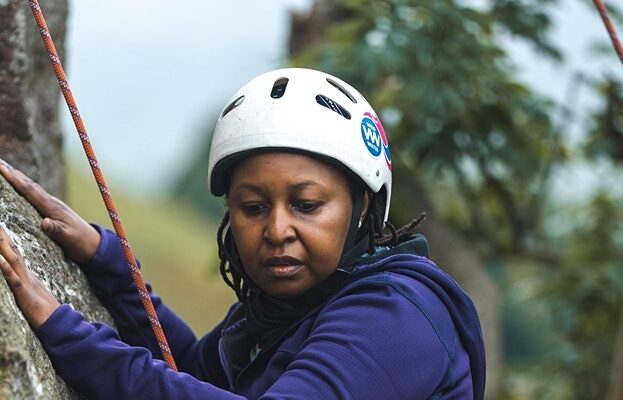 Led by experienced instructors from Latitude Mountaineering, this introduction to Rock Climbing session will be held at Stanage Edge, a legendary climbing venue, with lovely views of the Peak District.
Rock climbing is a really fun and memorable way to spend some time outside. Moving up through exciting terrain, you will be securely attached to a rope while you climb. We won't ask you to do anything that you aren't comfortable with, but all there will be an opportunity to have a go, try it out, and see how you like it.
All safety equipment such as helmets and harnesses will be provided.
Difficulty: Suitable for beginners
Can I come to Black Girls Hike?
As the name suggests, this is a safe space for Black/Mixed Race cis and trans women and non-binary people of Black African and / or Caribbean descent who are comfortable in a space that centres the experiences of Black women. We are not a BAME, POC, BIPOC, WOC, Politically Black or Ally organisation.
What do you need to bring?
Footwear – Please bring tight-fitting trainers that have a thin sole. Converse are great. It makes it much easier if you can feel the rock as you climb!
Appropriate clothing for the day (Waterproofs, warm layers, hat, gloves etc)
Rucksack
Packed lunch, snacks and water
Please ensure any medication is bought with you e.g., asthma pump or epi pen
Getting There
Join our Facebook group to arrange car shares and connect with other hikers – https://www.facebook.com/groups/452855682259161/
You can use https://www.traveline.info/ to plan your route – the closest train station is Hathersage (2 miles away from the meeting point)
*Please be aware climbing does have some standing around, waiting to have a turn, so please be prepared and bring an extra layer for the British Weather and some good conversation 😊
*You don't need to stay for the full session if you don't wish to – come for as long as you want.