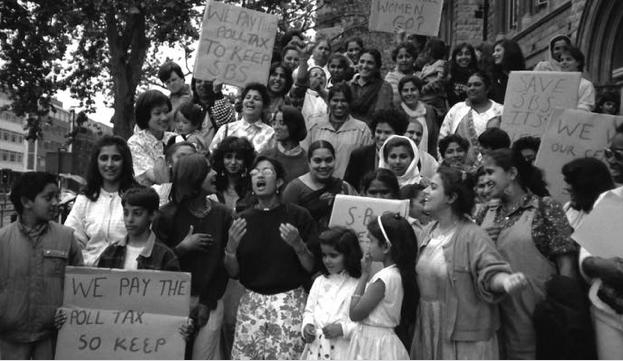 This year, Southall Black Sisters celebrates 40 years of survival and struggle. To mark our 40th anniversary we've been holding a series of events. The next event will be two walking tours to take place on 22 and 29 of June from 11:00am until 2:00pm.
Since our inception we have challenged and resisted gender, racial and other forms of inequality against a backdrop of profound political, economic and social change. In 1979 our founding members joined community anti-racist protesters in Southall against the presence of the National Front and went on to form Southall Black Sisters.
Join us as we walk in the footsteps of campaigning women. Start at Southall Town Hall where it all exploded, take a walk through the heart of Southall stopping outside landmarks where SBS history was made, end up at the SBS office to look at posters and photos of the key moments. At the end of both tours we'll offer a delicious Indian meal in our office, to all participants.
Ticket price:
£15 per person plus booking fees.
£10 per person plus booking fees for students, low income or unemployed and seniors citizens .
Children under 12 free.
Capacity: 20 people per walk.
FAQs
Are there ID requirements or an age limit to enter the event?
There are no ID requirements, however if you decide to bring a child under 12, please be aware that some of the themes and stories narrated will include references to racism, abuse and violence.
Can I bring my child in a pram?
Yes
Can I bring my dog?
Dogs are allowed during the walk but they won't be allowed in the office unless they are a guide dog.
Can I get a refund?
Full refunds are allowed up until 7 days prior to the event. Please log into your account to request a refund. Once processed, refunds can take up to 7 business days to appear in your account.
Can I get a discount?
Students, those on low income or unemployed or seniors citizens will get a discounted ticket of £10 plus booking fees. This will include lunch at the end of the walk.
How long is the walk?
The walk is approximately 2 hours long plus 1 hour for lunch and visiting the office.
I have dietary requirements what does the meal consist of?
The meal will be Indian vegetarian. Nuts, milk, eggs might be present.