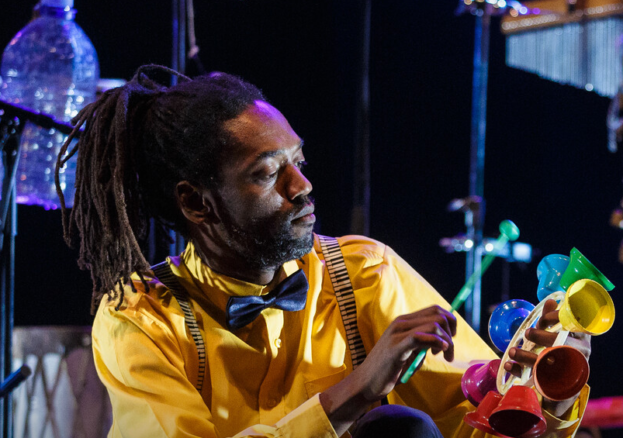 Explore rhythms and sounds of the world with Catapluf, whose imagination takes you to places where music can be found in everything: pans, water, drums, even the body.
Presented by Adriano Adewale, the show is packed full of rhythms and tunes from every corner of the globe spiced up with samba sounds, roof-raising jazz and foot-stomping klezmer. Discover music hiding in the everyday things around us on a colourful journey of rhythms and sounds.
Catapluf's Musical Journey is a new work by renowned Brazilian multi-instrumentalist Adriano Adewale, aimed at children 5+. The show was originally commissioned by the EFG London Jazz Festival in 2013 and since then it has toured extensively, captivating audiences throughout the UK and across Europe. The performance features Jenny Adejayan on cello, Marcelo Andrade and Giuliano Pereira both on saxophone, flute and guitar, Andres Ticino on percussion, and Adriano Adewale on saucepans and everything else!