The author of the bestselling I Am Not Your Baby Mother introduces her new book of essays, written in her trademark straight-talking, warm and funny style.
Candice Brathwaite, author, journalist, presenter and founder of Make Motherhood Diverse, joins us to celebrate the publication of her highly anticipated new book, Sista Sister.
Examining family, money, Black hair, fashion, sex and friendships, Sista Sister is a compilation of essays about all the things Brathwaite wishes someone had talked to her about when she needed guidance as a young Black girl growing up in London.
Brathwaite discusses the book, and her experiences writing it, with Emma Gannon. Gannon is a Sunday Times bestselling author, speaker, novelist, and host of the number one creative careers podcast in the UK, Ctrl Alt Delete.
Brathwaite's first book, Sunday Times top five bestseller I Am Not Your Baby Mother, was a landmark publication in 2020.
It's a thought-provoking, urgent and inspirational guide to life as a Black British mum, and a call-to-arms for mothers to take control and do it their own way, scrapping the parenting rulebook.
More Lambeth Listings MORE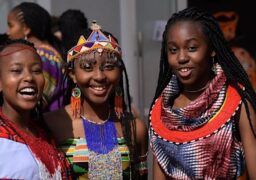 Lambeth
Saturday 9 December
The workshop aims to educate young people about their heritage which will help them develop a positive sense…