Over the summer holidays we are releasing a series of fun creative activities inspired by Slavery Remembrance Day. The first two are below, look out for the third in August.
We would love to see what you make – please share pictures on social media with the hashtag #SRDAtHome and tag in @internationalslaverymuseum on Instagram or @SlaveryMuseum on twitter.
Make your own zine!
Zines have been used for 100 years to document everything from passions to political movements. They are made for many reasons – as a source of self-care, art or for a connection. Zines are a way to tell your story in your own voice and be creative for an hour or so.
In this video Seleena Lavern Daye shows you how to make a one page zine and fill it with thoughts on healing and remembrance, joy and sticky fingers! You can also download her handy worksheet below with instructions.
Inspiration
Zines are a great tool for activism, for getting messages out to people and seeking out like minded folk.
Who inspires you? What inspires you? How do you take care of yourself?
These prompts might help you start your zine.
Share your story.
Share the story of someone who has paved theway for others.
Write or illustrate recipes, activities, books, films or places you revisit to feel good.
Document local community activism.
About the artist
Seleena Lavern Daye is a textile artist and zine maker, who has made zines for over 20 years and whose work features themes of race, class, gender and fandoms! Find out more and maybe get inspiration for your zine on Seleena's website.
More Liverpool Listings MORE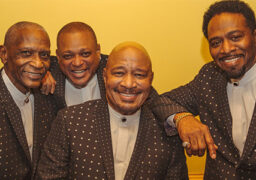 Liverpool
Friday 1th December
The Stylistics, who are currently on a sold-out tour in the US, are proud to announce their UK…