A space to connect with a diverse group of businesses and professionals in the UK and Milton Keynes, sharing knowledge and skills.
Is building long-term business relationships important to you?
We aim to facilitate greater communication and connectivity between this group of talented businesses and a network of the leading African Diaspora in the UK.
Most people do business with people that they trust, know and like. Research shows that networking produces 80% more results than cold calling. and how better to get to know people than meet them on a regular basis at a local business group?
We will be inviting industry experts with shared ambitions and value systems to come and share insights and know-how, so you can leave the sessions with better knowledge, confidence and skills than when you walked in.
More Milton Keynes Listings MORE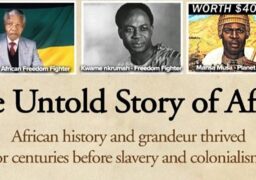 Milton Keynes
March 27- October 30, 2021
We invite everyone, especially youth of African heritage to investigate the whitewashing of history. We investigate the role…