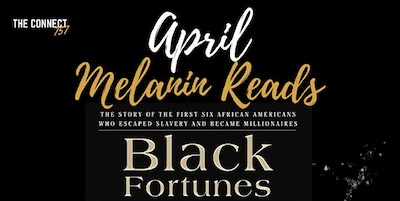 Join us to discuss this months book, "Black Fortunes: The Story of the First Six African Americans Who Escaped Slavery and Became Millionaires" by Shomari Wills. connect virtually through Zoom at 4pm on Sunday, April 26th. Read below to learn more about this month's book! Feel free to read a traditional hardcover or listen through a streaming service. Bring discussion points and questions with you for this months Book Club!
Zoom invites will be emailed multiple times leading up to the discussion and will include a password to enter. If you have any questions, please feel free to reach out to theconnect757@gmail.com
Continue reading to learn more about the book and the author from Amazon.com:
From the Back Cover
Immediately following Emancipation, there were 4,047 millionaires in the United States—and six of them were African American.
Between 1830 and 1927, as the last generation of blacks born into slavery was reaching maturity, a small group of industrious, tenacious, and daring men and women broke new ground to attain the highest levels of financial success.
Mary Ellen Pleasant used her Gold Rushwealth to further the cause of abolitionist John Brown. Robert Reed Church became the largest landowner in Tennessee. Hannah Elias, the mistress of a New York City millionaire, used the property her lover gave her to build an empire in Harlem. Orphan and self-taught chemist Annie Turnbo Malone developed the first national brand of hair care products. Mississippi schoolteacher O. W. Gurley developed a piece of Tulsa, Oklahoma, into a "town" for wealthy black professionals and craftsmen that would become known as "Black Wall Street." Although Madam C. J. Walker was given the title of America's first female black millionaire, she was not. She was the first, however, to flaunt and openly claim her wealth—a dangerous and revolutionary act.
Nearly all the unforgettable personalities in this amazing collection were often attacked, demonized, or swindled out of their wealth. Black Fortunes illuminates as never before the birth of the black business titan.
About the Author
Shomari Wills is a journalist. He has worked for CNN and Good Morning America, and has contributed to New York Carib News and Columbia Journalism Review. He received an undergraduate degree from Morehouse College and a graduate degree from Columbia University, where he was named a Lynton Book Writing Fellow. He lives in Brooklyn, New York.
Join us this month to discuss, "Black Fortunes: The Story of the First Six African Americans Who Escaped Slavery and Became Millionaires" by Shomari Wills.
More Online Events Listings MORE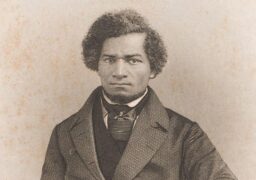 Online Events
Wednesday 6 December
A virtual tour highlighting sites around the UK/Ireland where freedom fighter Frederick Douglass had a strong impact with…